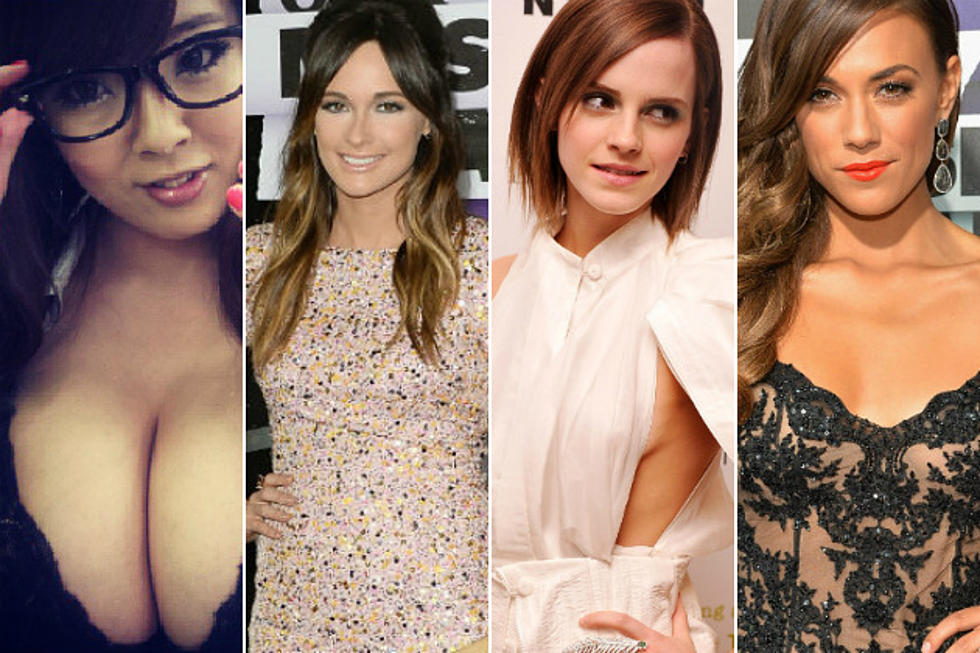 100 Hottest Women of 2014 – Part 2
Instagram / Getty Images
We can't believe we have only gotten through one tenth of the 100 Hottest Women of 2014 and our hearts are already beating this hard! As we continue through our tantalizing trip, we present some country kittens, metal goddesses, a brilliant magician and a Japanese porn star whose body defies physics.
90

 Lzzy Hale is the lead vocalist and guitarist for her Grammy Award winning hard rock band, Halestorm. Lzzy has been known to tour with the likes of Seether, Evanescence, Bullet for my Valentine, Disturbed and Avenged Sevenfold. Halestrom became the first female-led band to ever be nominated for and win a Grammy for the Best Hard Rock/Metal Performance, which was a huge win for female rockers worldwide. We're only ten women into the Hottest Woman of 2014 and we already have a lady who has raised the bar quite high.

89

Who is Hitomi Tanaka you might ask? Well, take a 42H bra size, put that on a fit, 5 foot tall Japanese woman and voila! You have one of Japan's most prominent porn stars. Be on the look out, because Tanaka-chan is finally starting to star in American adult films (which means she will no longer be subjugated to the horrors of Japan censoring all of their pornography). Hitomi also has a black belt in karate, but we're pretty sure belts will be dropping everywhere once she makes her official American debut.

88

If you're a country fan and haven't yet heard of Kacey Musgraves, you must not be keeping up with the times. Tied with Taylor Swift, Kacey is nominated for four Grammys this year, including Best New Artist, Best Country Album and "Mama's Broken Heart" and "Merry Go 'Round" are each nominated for Best Country Song. Kacey lives up to the namesake of her hometown by being the golden girl of Golden, Texas.

87

If you have ever seen the music video for Chris Brown and Big Sean's song, "My Last", then you have been previously exposed to Emila Carpinisan's beauty. This FHM regular originates from Sweden and gained a relatively large buzz over there as the lead star of the Swedish reality show "Lyckan i LA".  And with lips like that, we'd watch Emila on the tube lickin' every day. Emila continues to be a video vixen while broadening her modelling career to this very day.

86

Jana Kramer has had numerous walk-on roles on shows like Entourage, One Tree Hill, CSI and Grey's Anatomy. And while she's quite the looker, she's been getting more recognition from the beauty of her voice. Over the past two years, Jana has been working hard on her country music career and was nominated for numerous awards based on her southern style of singing. Keep an eye out for her official sophomore album dropping later this year.

85

To think, we're only this far into the Hottest Women of 2014 and we've already found someone magical. What is there to say about Emma Watson that hasn't been already said? Her amazing cameo as herself in 'This is the End' was absolutely hilarious. Add this to her stellar portrayals of Sam in 'The Perks of Being a Wallflower' and Nicki Moore in 'The Bling Ring', and Emma Watson has clearly grown up and matured as an actress. The wands may not have changed sizes while Hermione attended Hogwarts, but ours definitely did now that she finally graduated.

84

At only 20 years old, Lauren Hanley has definitely filled out quite well. Ms. Hanley is currently a LA resident, but she previously lived in Florida and used to be a Florida State co-ed. Lauren has been quite vocal about her affinity for The Walking Dead. And even if we were never bitten by a zombie, it sure feels like we're getting rigor mortis down below whenever Lauren Hanley is around.

83

We guarantee you Iggy Azalea will become a household name this year. Iggy is the first female Austraillian rapper to make her mark in Europe and the States. Last year she graced the cover of XXL Magazine, and she hasn't even released her first official album yet! This past winter, she was the opening act for Beyonce on her "Mrs. Carter" world tour. Iggy's official debut album, The New Classic, will be released by Def Jam by spring of this year. Thank god for the land down under, because all that we've got left to say is: those hips.

82

Orianthi Panagaris has been regarded as a prodigy in the realm of female guitarists. Orianthi composed and produced nearly all of the material for her debut album, Violet Journey. Around this time, she got the attention to legendary guitarist, Carlos Santana, who helped the blond shredder get her start in the industry. Orianthi was invited to tour with Carrie Underwood as a permanent member of her band, until the King of Pop himself, Michael Jackson, asked Orianthi to be the head guitarist for his ill-fated "This is It" tour. Since Jackson's untimely death, Orianthi can be found onstage touring with the godfather of shock rock, Alice Cooper. Fortunate for us, Orianthi's looks are just as effective at grabbing our attention as her musical prowess.

81

For the past 20 years, Lacuna Coil has been at the forefront of metal in Italy. You guys might remember their song "Closer" as a featured track on Guitar Hero 3. Their style of goth metal consists of outstanding guitar rifts contrasting the dual voices of Christina Scabbia and Andrea Ferro to create a memorizing harmony. It doesn't hurt that such a veteran female metal songstress happens to be absolutely gorgeous.