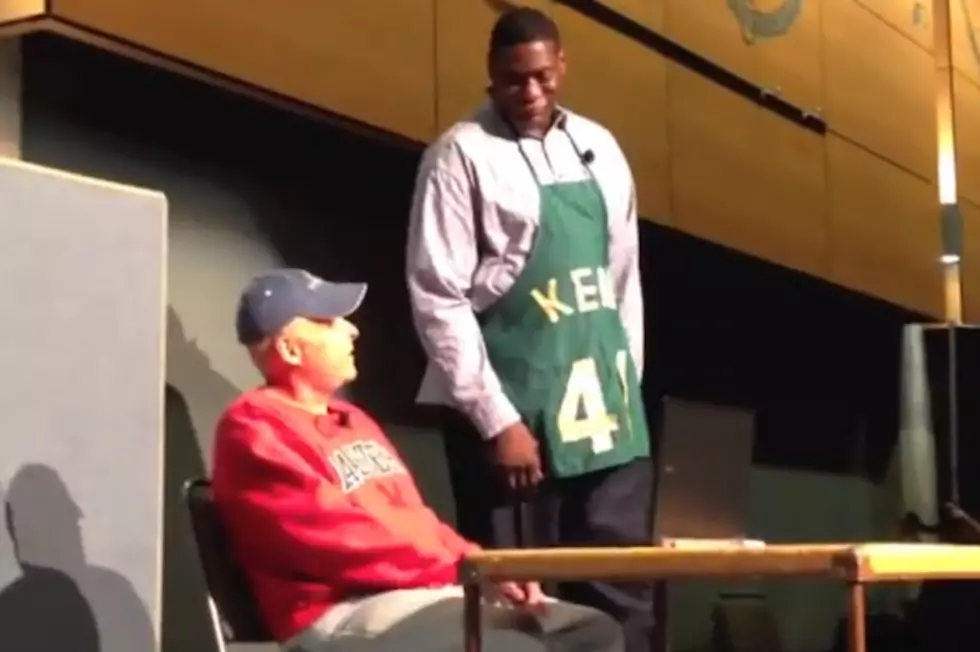 Shawn Kemp does Shakespeare? — Men With Balls
In this week's edition of "Men With Balls" a home run ball hits two different people, a Spurs fan gets an awesome haircut, a live chicken invades a British soccer match, awesome Frisbee trick shots and Shawn Kemp performs some Shakespeare.
However, let's gets started with a Jeopardy contestant who doesn't know last year's Super Bowl MVP:
Kids aren't our future
For those of you who don't know, the Jeopardy teen tournament is nearing the end of this year's incarnation and brought us another classic Jeopardy Fail.
In a category called "He's Quite The Sportsman", watch as a contestant Kevin accidentally confuses Aaron Rodgers and Eli Manning in a $200 clue:
Brandon Inge home run ball takes out two fans
You better keep your head on a swivel when a home run ball is hit since the below moment might happen to you if you aren't paying attention.
Detroit Tigers infielder Brandon Inge hit a home run against the Tampa Bay Rays over the weekend and the ball appears to have had a mind of its own.
First, the ball hits one male Rays fan in the crotch and then deflects off the face of a woman sitting behind him:
Spurs fan gets awesome Tony Parker hair cut
We all know that some NBA fans can get a little crazy in showing their dedication to their favorite player but one San Antonio Spurs fan went beyond the call of duty to show his.
Check out as he gets an image of star guard Tony Parker shaved into the back of his head:
Frisbee trick shots? Frisbee trick shots
Thanks to the world of YouTube, people around the world have created some of the greatest trick shot videos of all-time.
Check out this clip of Frisbee trick shot artist Brodie Smith showing off his best twenty-one tricks that he can do with a Frisbee:
Don't call him chicken
We've seen some pretty interesting delays during soccer matches but this one takes the bird.
Back on Monday, a chicken somehow got onto the pitch of the Wigam/Blackburn soccer match and decided to just hang out near the Wigan goal. Eventually, Wigan goalie Ali Al-Habsi caught the chicken and play was resumed:
Call them, maybe?
Unless you're dating a college girl or have a preteen daughter, you probably haven't heard Carly Rae Jepsen's "Call Me Maybe" but it has been sweeping the nation. The guys with the Harvard Baseball Team decided to show off their dancing moves to the song during a recent road trip to Florida:
Two over the wall, one in the glove
The catch of the week from minor league baseball comes to us from a match between the Corpus Christi Hooks and the San Antonio Mission.
Mission hitter Nathan Freiman hit a deep ball to left field and appeared to have a home run. Suddenly, Hooks outfielders Austin Wates and Brandon Barnes both attempted to make the catch on the short wall.
Wates would make the play but both players ended up over the wall:
Where art thou? Shawn Kemp….
Let's be honest, the odds that former Seattle Supersonics star Shawn Kemp would ever perform any work of Shakespeare was pretty low.
However, Kemp and Seattle Times writer Steve Kelley decided to star in a skit during a charity event for the Seattle Shakespeare company and proves the age old theory, "If you give Shawn Kemp some Shakespeare, he will not butcher it":