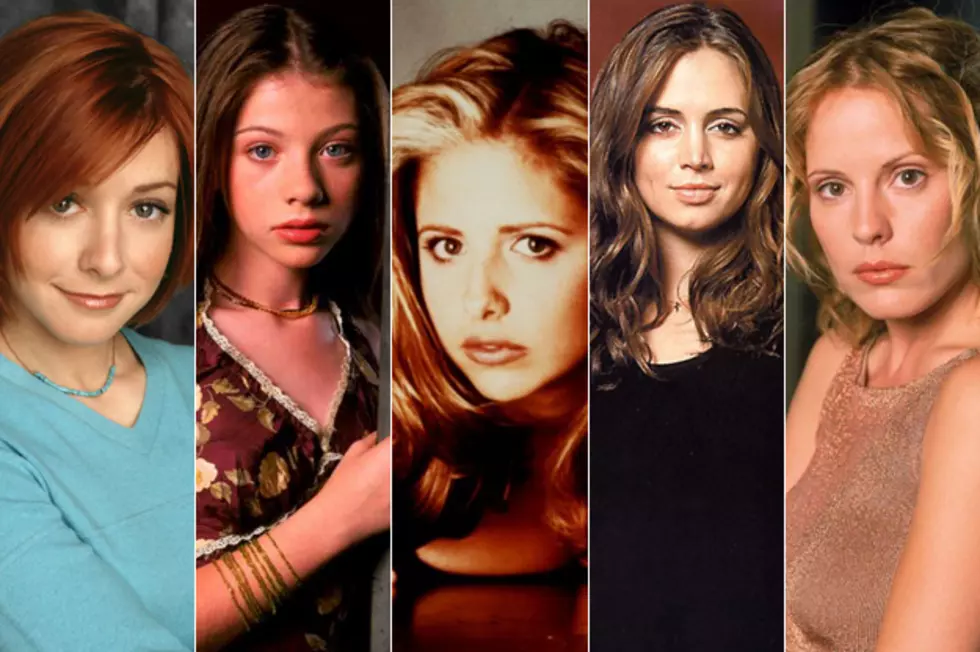 Whatever Happened to the Hot Girls of 'Buffy the Vampire Slayer'?
The titular hero of Joss Whedon's 'Buffy the Vampire Slayer' battled demons (both real and metaphorical) every day on the Hellmouth that was Sunnydale, California. Lucky for Buffy, she always had a little help from her friends. And lucky for us, most of her friends were played by some of the hottest actresses to ever grace the small screen.
There have been rumors of a 'Buffy' reboot (sans Whedon) circulating over the past several months, but it's hard to imagine a new cast taking over the iconic roles of 'Buffy,' played by Sarah Michelle Gellar in the series, and her Scooby Gang. It's unlikely that a new crop of slayerettes and sexy vamps could outshine the original players. Let's take a look back at the shows impressive female cast members, explore what made them so memorable, and find out what happened to the hot chicks of 'Buffy the Vampire Slayer.'
Julie Benz — Darla
Then: When 'Buffy' premiered in 1997, Benz was a relatively unknown actress with a lot to prove. She reportedly auditioned for the role of Buffy, but Whedon cast her as the villainous vampire Darla, the sexy but sadistic ex of Buffy's first love Angel. Benz was so strong in the recurring role that she later appeared regularly on the 'Buffy' spinoff 'Angel,' where her character was given more depth and an engaging, intricate back-story.
Now: Benz's career took off shortly after her final appearance on 'Angel' in 2004. She's appeared in countless TV series, including 'NCIS,' 'CSI,' and 'Supernatural,' and she famously played Dexter Morgan's wife Rita on Showtime's 'Dexter.' After 'Dexter,' Benz landed a racy recurring gig on ABC's 'Desperate Housewives' and a lead role on the network's cuddly superhero drama 'No Ordinary Family.' She also appeared in the recently canceled series 'A Gifted Man,' and has landed a leading role in Syfy's upcoming multi-platform science fiction project, 'Defiance.'
Emma Caulfield — Anya
Then: Caulfield's impressive range as an actress was put to great use playing the former demon turned hot chick Anya, who provided a lot of the show's comic relief and was also responsible for some of its darkest and most heartfelt moments. Caulfield was originally hired for a guest spot on the show, but she later landed a series regular gig after impressing Whedon and crew with her comedic timing and dramatic skills as the ever out of place Anya.
Now: After 'Buffy,' Caulfield added writing and producing to her resume. She co-wrote the cult web comic 'Contrapussy,' and she produces and stars in the web series 'Bandwagon,' originally shot as a feature film, in which she plays a comically exaggerated version of herself. Caulfield has also made several memorable guest appearances on network TV shows, most recently on ABC's 'Once Upon a Time.' She also played the female lead in the 2003 horror flick 'Darkness Falls,' but it's probably best if we don't linger on that for too long.
Michelle Trachtenberg  — Dawn Summers
Then: It's not a stretch to say that 'Buffy' fans HATED Buffy's little sister Dawn, played by then teen actress Trachtenberg, when she appeared out of nowhere and with no explanation in the show's fifth season. But after many episodes featuring Dawn whining and moping and almost getting everyone killed, Buffy's lil' sis finally grew into a sharp, strong and loveable character. Trachtenberg pretty much grew up on the show, and she got to show off her impressive ballet skills in the fan favorite musical episode 'Once More, With Feeling.'
Now: Much like Caulfield and Benz, Trachtenberg has appeared on several hit TV series, like 'House,' 'Six Feet Under,' and 'Weeds.' She landed a leading role in the 2004 teen sex comedy 'Eurotrip', where she flaunted her obvious sex appeal as well as her considerable comedic chops. Other notable film roles followed, including Disney's 'Ice Princess,' horror remake 'Black Christmas,' and '17 Again' with Zac Efron. Trachtenberg eventually landed on the show that all young super hot TV actresses eventually seem to end up on, The CW's 'Gossip Girl.'
Charisma Carpenter  — Cordelia Chase
Then: If any one member of the 'Buffy' cast could be described as a "bombshell," it's Charisma Carpenter. The gorgeous actress helped create one of the series' most complex and popular characters, Cordelia Chase. Carpenter originally auditioned for the role of Buffy but landed the supporting role of Cordelia, an arrogant, seemingly vacuous, status-obsessed rich girl who seemed to incur the wrath of undead bloodsuckers at every turn. After the show's third season, Carpenter's became a lead in the spinoff 'Angel,' where Cordelia blossomed into a powerful, self-possessed hero and viewers were treated to one of the most rewarding long-form character arcs in genre TV history.
Now: Carpenter was recently seen as Jason Statham's main squeeze in 'The Expendables.' She's also appeared on the genre TV shows 'Veronica Mars,' 'Legend of the Seeker,' and 'Supernatural' (alongside former 'Buffy' alum James Marsters). While most of her post-Cordelia performances have been memorable, it's probably Carpenter's nude 2004 Playboy pictorial that her fans will never forget. She's returning for 'Expendables 2,' which opens in theaters this August.
Eliza Dushku  — Faith
Then: Like a swift kick to the face, Dushku's vampire slayer character, Faith, shook things up in Sunnydale and left Buffy and her pals spinning after her sudden arrival in the show's third season. Dushku's committed performance as the "dark slayer" helped make season three one of the show's most memorable and well-received seasons, by both fans and critics. Dushku later appeared as Faith for two awesome arcs on 'Angel' and returned to 'Buffy' to play an important part in the show's final season.
Now: Dushku starred in a pair of short-lived genre TV projects shortly after 'Buffy' – 'Tru Calling' and Whedon's 'Dollhouse,' both of which aired on Fox. 'Dollhouse' was a winner with critics, but it failed to earn a steady audience, even though Dushku basically played a scantily clad sex slave in several episodes and sported full-on dominatrix gear in one hard to forget sequence. She recently appeared on FX's 'The League' and the Hulu series 'Leap Year.' Dushku also voiced Catwoman in last year's animated DVD movie 'Batman: Year One.' She's currently filming the feature film drama 'The Scribbler,' co-starring Michelle Trachtenberg.
Alyson Hannigan  — Willow Rosenberg
Then: It wasn't long until Rosenberg's mousey Willow became a 'Buffy' fan favorite. She started out as an under confident nerd and evolved into a hot lesbian teen witch over the show's seven seasons. Willow even became one of Buffy's toughest foes in the show's dark sixth season. Hannigan handled Willow's rewarding, if sometimes awkward, character transitions like a pro, fully committing to the role and rooting Willow's journey in genuine emotion.
Now: Aside from Sarah Michelle Gellar, Hannigan may be the only 'Buffy' alum that has become a household name. She's starred in one of the most successful comedy movie franchises of the past 10 years (featuring pie sex), and she plays Lily Aldrin on the hit CBS sitcom 'How I Met Your Mother.' Hannigan married fellow 'Buffy' alum Alexis Denisof. They had a child in 2009 and are expecting a second baby this year.
Sarah Michelle Gellar  — Buffy Summers
Then: Gellar reportedly originally auditioned for the role of Cordelia, which went to Charisma Carpenter, but Whedon recognized her potential as a leading lady and offered her the plum role of Buffy Summers. While her cast mates definitely shined over the show's seven seasons, Gellar's committed performance as Buffy was always the heart of the show. Buffy was the bright burning sun that all the other characters looked to for guidance. Plus, she saved the world, like, a lot. It's not surprising that many fans still find inspiration from the phrase "What Would Buffy Do?"
Now: Buffy was Gellar's biggest role, and she'll be forever associated with the iconic ass-kicking character. She's also starred in a number of hit, if not critically adored, movies, including 'Scooby-Doo' and 'The Grudge.' Gellar recently returned to TV starring in the CW mystery show 'Ringer,' which was cancelled just a few weeks ago. And just between you and us, our second favorite SMG role after Buffy has to be Krysta Now, the slow-witted but crafty porn star she played in 'Southland Tales.'