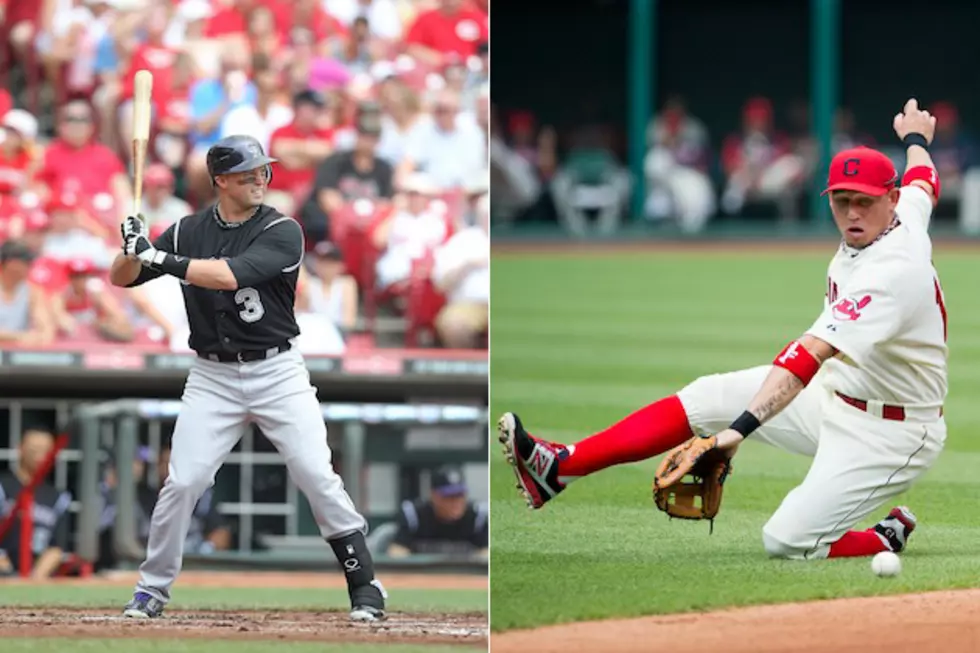 Fantasy Baseball 2013: 10 Best Shortstops
Getty Images
Things are interesting at the shortstop position this season. While many experts view it as shallow because of how the position performed as a whole last year, using hindsight isn't always helpful. When I look at this list, I see a group of guys that are capable of matching or exceeding their 2012 numbers.
One piece of advice heading into draft is that you don't want to wait too long in picking up a shortstop. Those options have more questions than answers. Derek Jeter turns 39 this season and is coming of ankle surgery. I don't know about you but I would much rather use the guy as a wingman than a starter on my fantasy squad.
Here are the ten best fantasy options at shortstop this season.
10

Let's get something straight right off the bat -- Hardy will not hit for high average or steal you any bases. He doesn't strike out all that much, which means he should hover around his .259 career batting average. What he does do is hit for power. Shortstops with 30+ homer potential are just about as tough to find as four-leaf clovers. That alone makes him worth the gamble in the middle rounds of your draft.

9

Erick Aybar, Los Angeles Angels

The departure of Torii Hunter means Aybar should slide into the second slot in the Angels lineup this season. In other words he will have Mike Trout and his .399 OBP in front of him and receive lineup protection from Albert Pujols and Josh Hamilton. While he won't provide you much in the form of pop, he has the ability to steal 30 bags and flirt with 100 runs if all goes right.

8

Jimmy Rollins, Philadelphia

After a couple of down seasons Rollins rewarded his owners with a .250-102-23-68-30 line out of the leadoff spot last year. At 34 though, it's completely safe to call those numbers his ceiling. Many sleep on the fact that he was one of only two middle infielders to log a 20-20 season last year (Hanley Ramirez being the other). While he isn't the "sexy" option, he is about as safe as they come at the position.

7

I have Desmond as one of my Top 10 busts this season. That doesn't make him an awful player, just one I feel has an inflated value based on his breakout last season. Here is one thing to chew on. Heading into 2012 he hit just 72 homers as a professional over 3,964 plate appearances dating back to '04. Last year he hit 25 over just 547 plate appearances.

6

Asdrubal Cabrera, Cleveland

Outside of having a name no child would want, there isn't much not to like about the guy I love to call ass dribble. For starters he is a career .279 hitter that offers above average power and adequate speed for the position. An improved Indians lineup means he has a good chance at setting a career high (87) in runs this season too.

5

Let's get one thing straight -- This kid will never display power. Selecting him brings you a career .275 hitter capable of stealing you 30 bags and scoring 90 runs. If you load up on power early, and are looking for a few swipes, pull the trigger on Andrus. Unless your league penalizes for caught stealing. He has been caught stealing in 35% of his career attempts.

4

His versatility alone makes him an asset in Fantasy. Being able to use him at shortstop, second or in the outfield is a dream come true for owners. The fact that he also offers solid production is just icing on the cake. Because of this Zobrist tends to come off the board a bit earlier than his stats dictate. If this guy is on the board for me in the fifth round of a 12-team league, I am pulling the trigger.

3

His move to Toronto brings with it optimism. He will be leading off for the best offense he has ever played for. He also will get to utilize that speed on AstroTurf. I worry about the effect playing all those games on turf will have on his legs. Reyes hasn't exactly been a model of health over his career. Because of this I just can't rank him any higher. If he stays healthy and the stars align he could ultimately lead all shortstops in Fantasy. I just can't shake the fact that I think he ends up spending at least one decent stint on the DL.

2

Starlin Castro, Chicago Cubs

There aren't many players out there that have logged more than the 445 games Castro has before his 23rd birthday. While his average dipped a bit last season he did end up setting career best totals in home runs (14), RBI's (78) and stolen bases (25). Outside of a lack of patience at the plate there is nothing you can really fault this kid on. His numbers compare favorably with a young Derek Jeter. Expect him to post annual .300-90-20-80-20 lines for the next 8-to-10 years.

1

Troy Tulowitzki, Colorado

Talent wise there isn't a more offensively gifted shortstop. His only problem has been staying on the field. Tulo has played six full seasons with the Rockies, or a possible 972 games. For one reason or another he has managed to play in just 719 of them; roughly 74 percent. Most of his issues have come with his legs, which quite frankly bothers me. If the injuries were scattered I wouldn't be as apt to label him injury prone. His ability to launch 30 homers and drive in 100 runs and hitting for a strong average makes him too good to pass up if the price is right.