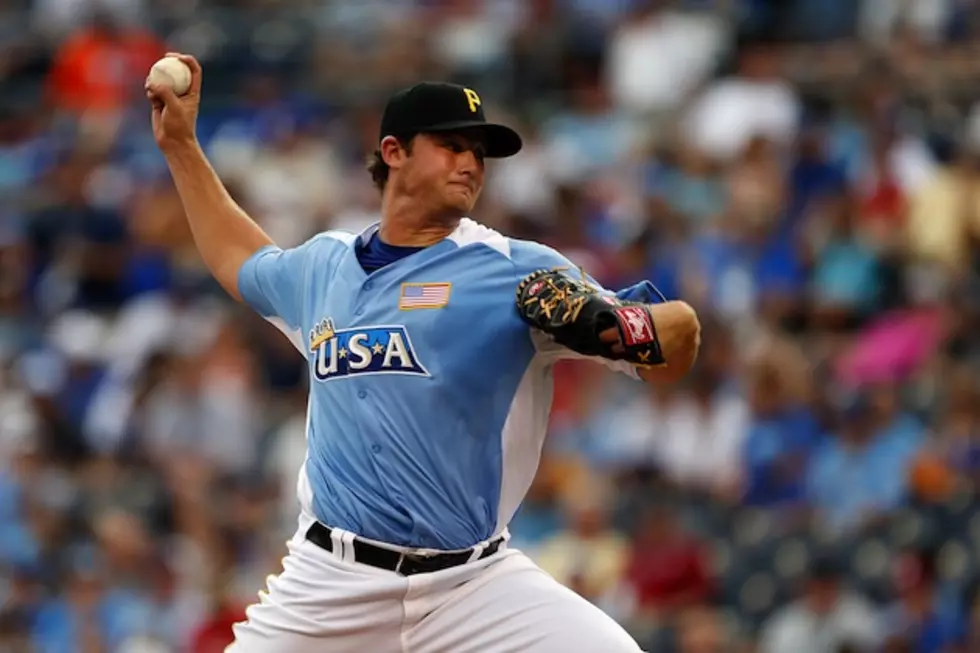 MLB Prospects 2013: 10 Rookies With Possible Fantasy Potential
Jamie Squire/Getty Images
MLB prospects in 2013 are abundant, but all have question marks next to their names.
Those of you out there that think MLB prospects don't matter in fantasy should look no further than the impacts that Mike Trout and Bryce Harper had last season. Sure these guys started the year in the minors but astute fantasy owners nabbed them in the late rounds of their drafts and were very likely to find themselves at or near the top of their league standings when the season came to an end.
While I don't see a player making a Trout-like splash this season, that doesn't mean you shouldn't be up to date with the best MLB prospects currently toiling their trade in the minors. Not all of these guys will make an impact this season, but those of you in keeper and dynasty leagues should stash these guys away for a rainy day.
Here are 10 MLB prospects to consider in the late rounds of your fantasy drafts.
10

Trevor Bauer, SP

Cleveland Indians

Bauer fell out of favor in Arizona because he wasn't very flexible in terms of altering his mechanics or workout regimen. Cleveland swooped right in and grabbed the talented 22-year-old MLB prospect and is giving him every opportunity to land a gig in the starting rotation out of Spring Training. He works in the low-to-mid 90's with his fastball and backs that up with wicked curve, slider, splitter and change. Don't let four disappointing starts in the bigs last year discourage you; this kid has at the very least number two starter written on him.

9

Zach Wheeler, SP

New York Mets

The Mets were able to wrestle MLB prospect Wheeler away from the Giants for a playoff run rental of Carlos Beltran '11 and all he has done is continue to ascend the prospect rankings since. He offers a mid-90's fastball, a solid 12-to-6 curve and a rapidly developing change-up what has helped him strike out 347 batters over 322 2/3 innings in the minors. He should start this season at Triple-A Las Vegas, but will likely become a permanent fixture in the Mets rotation by the All-Star break.

8

Xander Bogaerts, SS

Boston Red Sox

Middle infielders with middle of the order potential don't exactly grow on trees. The Aruban born Bogaerts is just that, and as a bonus is looking more and more likely to stick at shortstop instead of getting bumped out to third base. While we likely won't see the 20-year-old until 2014 if he continues to mash down in Double-A this year the MLB prospect may just force his way into the lineup.

7

Shelby Miller, SP

St. Louis Cardinals

Chris Carpenter's season ending injury has left the door open for Miller to grab the role of fifth starter out of camp. All signs point to him grabbing it unless he absolutely bombs or falls prey to injury. Another power arm with a fantastic late moving fastball and big looping curve he should strike out his fair share of batters. He warrants mixed league consideration in redraft leagues this season. With a solid lineup backing him and big strikeout potential the baseball prospect could pay big dividends.

6

Taijuan Walker, SP

Seattle Mariners

Walker's overall numbers last year were pedestrian, but when you take into consideration he was just 19 years old and in Double-A there is more than enough reason to look the other way. His fastball has so much late movement it's sometimes unhittable. He teams it with an average straight change and curveball. Seattle's pitching depth means they can allow him to settle in and begin to dominate higher competition before a promotion to the big club. That means we probably won't see him for anything more than a cup of coffee this season.

5

Gerrit Cole, SP

Pittsburgh Pirates

Cole's first season in the minors saw him start 26 games. His journey started in High-A ball and finished in Triple-A. He was utterly dominant every step of the way. His high 90's heat and solid control should ensure a successful transition to majors at some point this season. Expect that to be some time before the All-Star break unless more than one injury strikes. Fantasy owners in deep leagues should be taking a late round flyer on the prospect on draft day.

4

Myers should have made an appearance with the Royals last season after just destroying minor league pitching. Kansas City decided to hold off and then ended up unloading him to Tampa Bay in the James Shields deal. Unfortunately this means the Rays will also delay his arrival in order to extend club control through 2019. His strikeout totals are a bit concerning, but once he settles in later this season he has the look of a guy that can put up Jay Bruce type numbers.

3

Dylan Bundy, SP

Baltimore Orioles

When it comes to pitching there is no such thing as a sure thing prospect. That being said the there isn't a pitcher in the minors right now that has a better chance at being a staff ace then Bundy. At 19 he blew through the minors to the tune of a 2.08 ERA, 0.92 WHIP and 10.3 K/9 over 103.2 innings pitched before earning a few relief appearances with the Orioles in September. All he needs is a little polish on his developing changeup and he will be ready.

2

Oscar Taveras, OF

St. Louis Cardinals

Tavares gets the nod over the aforementioned Myers because for two reasons. First he is 17 months younger and secondly Tavares has struck out 190 times over 1,263 minor league at-bats. Myers struck out 140 times over 522 at-bats just last season. Taveras will ultimately be the better hitter and his power will continue to improve with age.

1

Jurickson Profar, SS

Texas Rangers

Shortstops with a perennial 20-20 offensive skill set don't exactly grow on trees. Profar has already logged 1,366 minor league plate appearances before his 20th birthday and is posting better numbers as he moves up the ranks. A solid indicator he will continue improving. The thing I love is he works a count, walking 159 times while striking out just 188 times. In my eyes, everything screams "can't miss" with this MLB prospect.