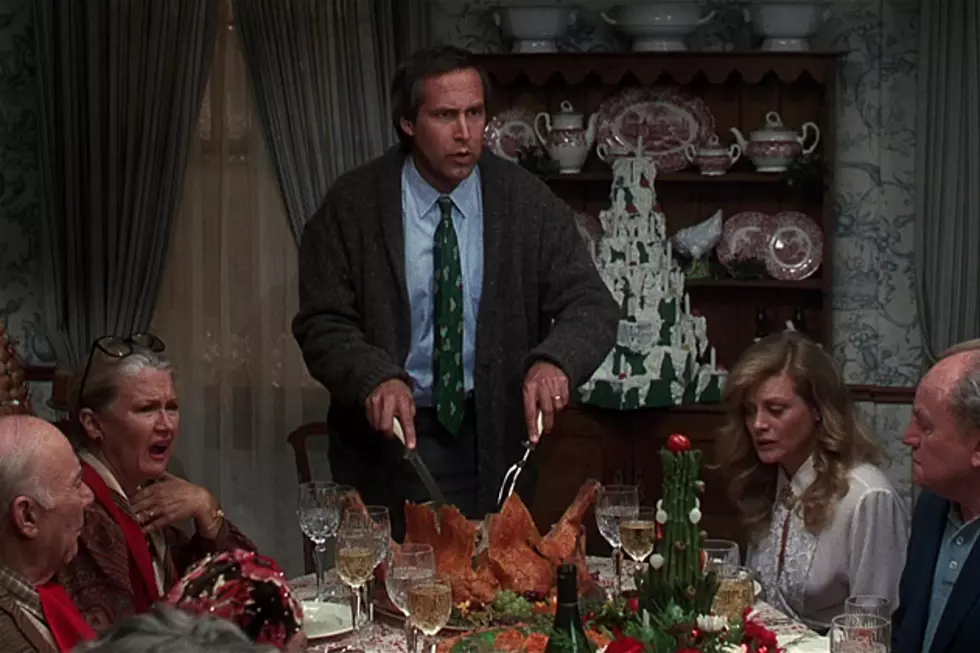 See the Cast of 'National Lampoon's Christmas Vacation' Then and Now
Warner Bros.
'National Lampoon's Christmas Vacation' was the third, and considered by many to be the best, installment in the 'Vacation' franchise.
Like its predecessors, it was written by John Hughes and starred Chevy Chase and Beverly D'Angelo. Unlike the other movies in the series, the "vacation" took place at the Griswold's home during the holiday season.
The comedy featured quite a few recognizable faces, some of whom weren't so recognizable at the time. With some of the cast back together in a new Old Navy holiday commercial, we thought we'd see what the gang from 'Christmas Vacation' is up to these days below.
Chevy Chase, Clark W. Griswold, Jr.
Then: When Chevy Chase played Clark Griswold for the third time in 'Christmas Vacation,' the 45-year-old was an A-list comedic lead. However the critical failures of two Chase-associated sequels -- 'Caddyshack II' and 'Fletch Lives' -- foreshadowed the rather legendary dip in fortunes Chevy suffered in the '90s. A move to drama for 'Memoirs of an Invisible Man' didn't help.
Now: Chase had been enjoying something of a career renaissance, thanks to his role as Pierce Hawthorne on 'Community.' However, Chase left the sitcom after a nasty public dispute with its creator Dan Harmon.
Beverly D'Angelo, Ellen Smith Griswold
Then: Like Chase, D'Angelo appeared in all four of the 'Vacation' theatrical releases. In 'Christmas Vacation,' her character suffers through husband Clark's plans for a "good old-fashioned Christmas."
Now: D'Angelo has been best known lately for her role as the aggressive talent agent Babs Miller on 'Entourage.' In 2008, she was in the movie 'Harold & Kumar Escape from Guantanamo Bay.' She also played the housemother in 'The House Bunny.'
Randy Quaid, Cousin Edward "Eddie" Johnson
Then: Quaid reprised his always interesting Cousin Eddie character in 'Christmas Vacation.' The older brother of Dennis Quaid, Randy started his long film career in 1971, playing a supporting role in 'The Last Picture Show.'
Now: Quaid's last acting credit was 2009's 'Balls Out: Gary the Tennis Coach.' But the 62-year-old has been involved in his fair share of off-camera drama. In 2010, Quaid and his wife skipped bail on charges of illegal occupancy and fled the United States for Canada. They are seeking refugee status there, claiming they are being pursued by a shadowy group called "The Hollywood Star Whackers." If Quaid returns to the United States, he will be arrested.
Miriam Flynn, Catherine
Then: Flynn, a Second City improv comedy veteran, reprised her role as Eddie's wife Cousin Catherine for 'Christmas Vacation.' In the interim between this and the first 'Vacation' movie, she worked on various television shows, including 'Cheers,' 'Family Ties' and 'Raising Miranda.'
Now: Since 'Christmas Vacation,' Flynn has continued to work mainly in television and as voiceover talent for cartoons and video games. Notably, she provided the voices of Grandmother Longneck for nine of the 'Land Before Time' movies. Most recently, she has appeared on the TV comedy 'Suburgatory.'
Ellen Hamilton Latzen, Ruby Sue
Then: Ellen Hamilton Latzen, who plays Eddie's daughter in 'Christmas Vacation,' is also known for her role as Michael Douglas' daughter in 'Fatal Attraction.'
Now: The last movie Latzen appeared in was 1997's 'Boys Life 2.' Today she works as an account executive and no longer sports her boy-ish haircut from 'Fatal Attraction.'
Juliette Lewis, Audrey Griswold
Then: Lewis was still fairly unknown when she played Audrey Griswold in 'Christmas Vacation.' But that would change soon after, first with a recurring role on 'The Wonder Years' and then with central roles in movies like 'What's Eating Gilbert Grape' and 'Natural Born Killers.'
Now: The 39-year-old currently plays Tammy on the TV show 'The Firm.' Lewis is also a singer, and fronts the rock band The New Romantiques.
Johnny Galecki, Rusty "Russ" Griswold
Then: With 'Christmas Vacation,' Galecki, then 14, became the third actor to play Rusty Griswold. (Anthony Michael Hall and Jason Lively came first.) Three years later he snagged a high-profile role as David Healy on 'Roseanne.'
Now: Since 2007, Galecki has starred as experimental physicist Leonard Hofstadter on the hit CBS comedy 'The Big Bang Theory.' He is currently dating actress Kelli Garner, after breaking up with his 'Big Bang Theory' co-star and love interest Kaley Cuoco in 2010.
Diane Ladd, Nora Griswold
Then: Veteran actress Diane Ladd played Clark's mom Nora Griswold. At the time, her most famous film role was probably as the sassy waitress Flo in the 1974 Martin Scorsese film 'Alice Doesn't Live Here Anymore.'
Now: Ladd appears alongside her real-life daughter Laura Dern in the HBO dramedy 'Enlightened,' which will begin its second season in January.
Doris Roberts, Frances Smith
Then: Famous TV mom Doris Roberts played Ellen's mother Frances Smith. She had been known during the '80s for her role as receptionist Mildred Krebs on 'Remington Steele.'
Now: Roberts won four Emmy awards for playing Ray Romano's mom Marie on 'Everybody Loves Raymond.' This year the 72-year-old recently appeared on 'Desperate Housewives' and 'The Middle' as well as in the movie 'Madea's Witness Protection.'
Julia Louis-Dreyfus, Margo Chester
Then: Louis-Dreyfus played Clark's snobby yuppie neighbor Margo Chester in 'Christmas Vacation.' Known during the '80s for stints on 'Saturday Night Live' and the 'Family Ties' spin-off 'Day by Day,' the actress took on the role of Elaine in a little show called 'Seinfeld' a year after her turn in 'Christmas Vacation.'
Now: Her sitcom 'The New Adventures of Old Christine' lasted five seasons before being cancelled in 2010, seemingly breaking the "Seinfeld Curse" which had plagued her costars on the hit NBC series. These days the 51-year-old is the titular character on the HBO comedy 'Veep.' She's been married to Brad Hall, whom she met when they were co-stars on 'SNL,' since 1987.
Nicholas Guest, Todd Chester
Then: Prior to 'Christmas Vacation,' Nicholas Guest, who played the Griswold's snobby neighbor, had parts in movies like 'The Bell Jar' and 'Trading Places.'
Now: Guest primarily does work as a voice actor these days. Recently he provided the voice of John Teller on 'Sons of Anarchy' and Martian Manhunter on 'Batman: The Brave and the Bold.'
Nicolette Scorsese, Mary the lingerie counter girl
Then: Before playing the sexy swimsuit lady of Clark's dreams in 'Christmas Vacation,' Scorsese was in a few episodes of 'The A-Team' and 'Charles in Charge.' She also worked as a model, and dated '80s hunk Antonio Sabato Jr.
Now: Scorsese, who is not related to director Martin Scorsese, played a few more sexy parts in movies in the '90s, namely in 'Boxing Helena.' She too has seemingly retired from acting, and not much information about her is available. We're guessing she is best described as a socialite, since the above photo of her was snapped in 2006 at an art opening.
Old Navy Reunion, 2012
Chevy Chase, Beverly D'Angelo and Juliette Lewis reunited for Old Navy's 2012 holiday spot, recreating the famous house lighting scene. We understand Randy Quaid's a little busy, but Johnny Galecki couldn't join them?