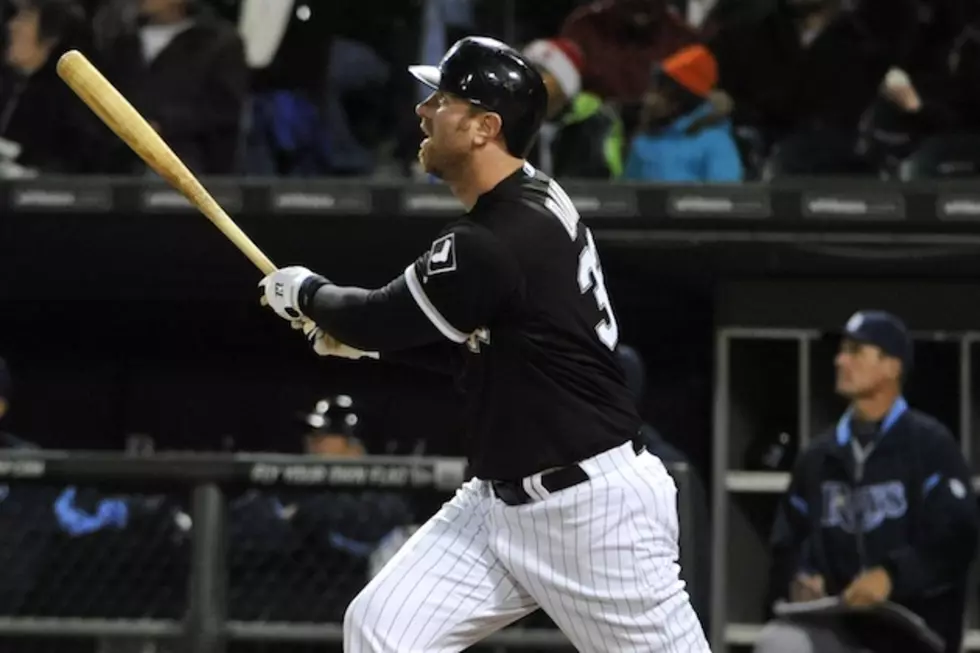 Waiver Wire Pickups 2013 — Fantasy Baseball Players to Check Out This Week
David Banks / Getty Images
My rule of thumb has always been to give my fantasy baseball teams a month. No one drafts a perfect team, and thirty games is typically enough time to get a good handle on your strengths and weaknesses.
That said, it's gut check time.
With the calendar ready to change over to May on Wednesday, it is now fair to start questioning some of the non-performing players on your roster. Lucky for you though, I've got a waiver wire pickups at each position to pick up as a replacement.
The guys you should be cutting are not your early round selections. They still hold trade value regardless of how bad they have played. Roy Halladay started the season horribly and had plenty of owners cutting bait on him. He has thrown together three consecutive quality starts and low and behold, holds value again.
Here are ten waiver wire pickups to consider this week.
** Percentage available taken from ESPN on Sunday April 28th
Atlanta Braves

Shoulder woes have kept him on the DL to start the season, but all signs point to a return some time within the next seven to ten days. Many fantasy owners have a really bad taste in their mouths after his career worst season last year. What you need to do is look at the whole picture and see a guy who is a career .279 hitter with 156 homers over close to 4,000 plate appearances.

Chicago White Sox

He has hit three homers over his last 23 at-bats. His season had been awful up to that point but what I see is a guy about to go on a tear. He has started taking walks, six over his last six games. It is the first sign all season he is starting to see the ball well. Dunn won't hit for average, but he sure has hell can hit another 30 home runs. If your team is set up to absorb his .220 average, make the pickup.

Dustin Ackley, 2B (91.8%)

Seattle Mariners

Ackley hasn't hit a homer yet this season, but he is slowly snapping out of an early season funk. With 11 hits over his last 25 at-bats he has raised his batting average to .238. He won't raise it too much more, but he is capable of hitting .250 while hitting 15 homers and stealing 15 bases when everything is going right. Right now things are going right.

Nolan Arenado, 3B (99.2%)

Colorado Rockies

Arenado followed up a big Spring by posting a .364/.392/667 triple slash line with three homers, 11 doubles and 21 RBIs down in Triple-A. Chris Nelson was designated for assignment upon Arenado's call-up on Sunday meaning he is going to see regular playing time. He warrants an immediate pick-up in all leagues. This is a kid with the potential to make a major impact.

Asdrubal Cabrera, SS (13.2%)

Cleveland Indians

Cabrera is a classic example of a guy who has no business even being on waivers. Cabrera needed three hits on Sunday to raise his batting average to .194, so his performance hasn't been what we have come to expect,  but he has hit 41 homers over his previous two seasons while hitting .271. His 2,642 career at-bats provide enough statistical proof that this guy will snap out of it.

Nate McClouth, OF (59.1%)

Baltimore Orioles

When healthy, "Nasty Nate" has posted solid fantasy totals. Look no further than his '08 and '09 seasons. The problem is the fact he's only appeared in 229 games since '09. He is back and healthy to start this season, and has rewarded the Orioles with a .318-17-1-7-7 line over his first 69 at-bats. A majority of his work has come from the lead-off slot, where he has posted a .453 OBP.

Baltimore should continue scoring, making him a very solid source of runs which makes him worth an add.

Peter Bourjos, OF (87.7%)

Los Angeles Angels

His move to the leadoff slot for the Angels has come with little fanfare. He has posted a .314/.379/.431 with a homer, seven RBIs and nine runs scored in 53 at-bats at the top of the order. The Angels offense really hasn't gotten on a roll yet, but when they do, this guy is going to really start scoring some runs if he keeps hitting for average and taking walks. The fact he could steal 20-plus bases is just icing on the cake.

Kyle Kendrick, SP (84.4%)

Philadelphia Phillies

Since giving up five earned runs to the Royals on April 5th Kendrick has dropped his ERA from 7.94 to 2.41. He faced the Mets twice, the Reds and Cards in his next four starts. He now warrants attention. He is locating his pitches well and doing a solid job of keeping the ball in the yard. He isn't a dominant pitcher but he's plenty capable of being a matchup play in mixed leagues.

Felix Doubront, SP (71.8%)

Boston Red Sox

He was a twostart pitcher this week, and owners who penciled the 25-year-old into their starting lineups got a pair of wins and 16 strikeouts over 13.1innings. He has, however, issued thirteen free passes over his first four starts. If you can get over the fact that he is going to struggle with walks, thus inflating his WHIP, he will prove to be a solid source of wins while posting a K/9 of over 9.0.

Ernesto Frieri, RP (7.9%)

Los Angeles Angels

He is currently locked in as the closer for a very talented but under-performing Angels squad. He hasn't pitched bad, posting a 1.93 ERA, 1.39 WHIP and 12 strikeouts over 9.1 innings pitched. His problem is his three lowly saves. Owners are getting impatient and chasing other sources like Kevin Gregg. Don't be foolish. This guy has no business being on waivers. If you see him on your wire pick him up immediately.