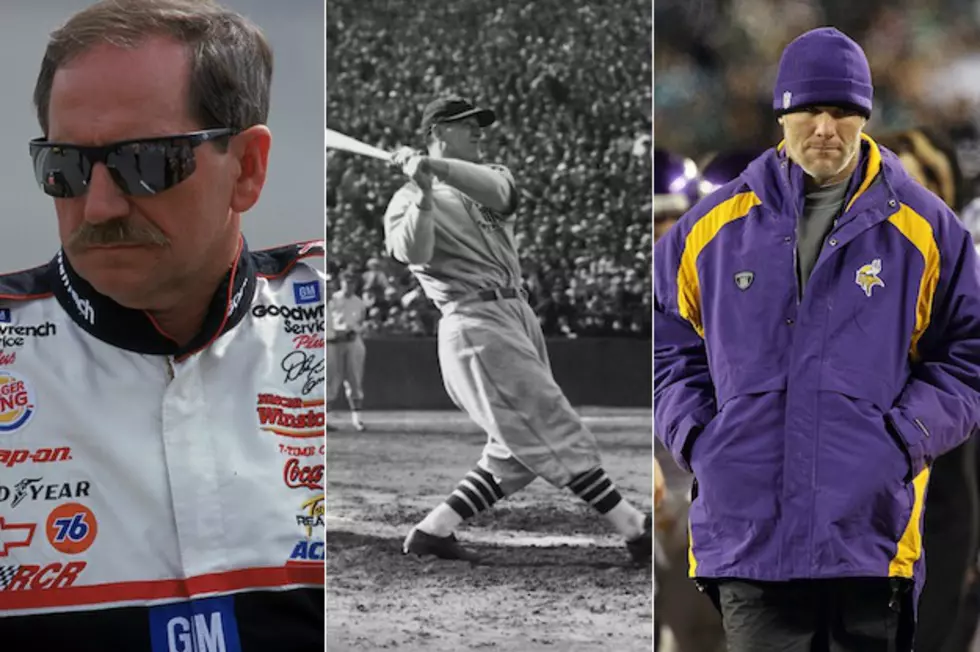 10 Awesome Athletes Who Had Their Careers End In Terrible Ways
Future Hall of Fame closer Mariano Rivera of the New York Yankees tore knee ligaments while shagging fly balls in batting practice in Kansas City on Thursday night. Rivera, 42, has since said that he will attempt to return to the mound, if not in 2012, then in 2013.
While no one doubts Rivera's resolve, it remains to be seen if his body is up to the challenge, or if the career of arguably the best relief pitcher in baseball history has come to an end in a flukey, improbable manner. Incredible sports heroes like Rivera deserve the honor of leaving their sport on their own terms, but it does not always work out that way. Here is a list of 10 awesome athletes who had their careers end in terrible ways.
Dale Earnhardt
One of the greatest drivers in NASCAR history, Dale Earnhardt won a total of 76 races and seven championships, tying Richard Petty for the most all-time titles. However, while driving in the 2001 Daytona 500, Earnhardt was involved in a collision on the last lap that caused his car to hit the wall. The crash resulted in a skull fracture, which ultimately caused Earnhardt's death, an event that shocked the nation's racing fans. Earnhardt was inducted into the NASCAR Hall of Fame posthumously.
Roberto Clemente
A 15-time all-star and National League MVP in 1966, Pittsburgh Pirates' star outfielder Roberto Clemente collected his 3,000th major league hit in his last regular season at-bat of 1972. After Managua, Nicaragua was hit by an earthquake in December of 1972, Clemente decided to begin an effort to help the struggling city. He was aboard a plane loaded with relief aid when it crashed near Puerto Rico immediately after takeoff on Sunday, December 31, 1972. In March of 1973, the Baseball Writers Association of America waived the customary five-year waiting period and elected Clemente to the Baseball Hall of Fame.
Lou Gehrig
After an incredible career with the New York Yankees that included 493 home runs, 1,995 runs batted in and 2,130 consecutive games played, first baseman Lou Gehrig had to leave baseball due to the worsening of his amyotrophic lateral sclerosis (ALS) in 1939. The disease, which often now bears his name, caused Gehrig to leave the game he loved before he wanted to do so. ALS claimed Gehrig's life in 1941 at the age of 37.
Magic Johnson
After winning five NBA titles with the Los Angeles Lakers from 1980 to 1991, point guard Magic Johnson announced his retirement from basketball at age 32 after discovering he contracted HIV, the virus that causes AIDS. Johnson returned to play in the 1992 All-Star Game, winning the game's MVP award. After other NBA players were worried that Johnson could inadvertently spread the disease, Johnson retired again. He gave the NBA another try in 1996, but only played 32 games at age 36.
Joe Thiesmann
Part of a Washington Redskins team that went to consecutive Super Bowls, quarterback Joe Thiesmann still had some career left when he was sacked by New York Giants' linebacker Lawrence Taylor on a Monday Night Football game in November of 1985. The weight of Taylor caused a compound fracture of both bones in Thiesmann's lower right leg. It is remembered as one of pro football's most gruesome injuries. Unable to recover from the injury, Thiesmann retired at age 36.
Brett Favre
After a stellar NFL career, mostly with the Green Bay Packers, Super Bowl-winning quarterback Brett Favre recorded the most passing yards (71,838), touchdown passes (508) and consecutive starts (297) in NFL history. Though his best days were behind him, Favre played with the New York Jets in 2008 and Minnesota Vikings in 2009-10. While with the Minnesota Vikings, Favre sustained a concussion after being sacked by Bears defensive end Corey Wootton in late December of 2010. The concussion kept Favre from ever taking the field again.
O.J. Simpson
A Heisman Trophy winner at USC and the first NFL player to eclipse 2,000 rushing yards in a season, O.J. Simpson was an extraordinary running back. Simpson later embarked on a successful acting and broadcasting career, but that was curtailed by his alleged involvement in the murder of his ex-wife, Nicole Brown Simpson, and her friend, Ron Goldman. Though he was acquitted of the charges in 1995, Simpson later was sentenced to prison for 33 years after being found guilty on armed robbery and kidnapping charges in 2008.
Steve Young
A Super Bowl-winning quarterback, Steve Young was a seven-time Pro Bowl selection and one of the most dynamic passers of his generation. Bothered by concussions throughout his career, Young was sacked by Arizona Cardinals' cornerback Aeneas Williams in Week 3 of the 1999 NFL season. The hit caused a concussion, and Young was unable to return to the football field, as he suffered from severe post-concussion syndrome for the remainder of the 1999 season. Young retired at age 38
Mike Tyson
Easily the most-feared heavyweight boxing champion of the late 1980s, Mike Tyson lost the title in 1996 to Evander Holyfield. In their 1997 rematch, Tyson bit off a chunk of Holyfield's ear, which led to his disqualification. As financial losses outside the ring mounted, the 35-year-old Tyson was coerced back into the ring, only to be knocked out by Lennox Lewis in 2002. Tyson then lost comeback fights to two undistinguished opponents in 2004 and 2005.
Michael Irvin
A five-time Pro Bowl wide receiver for the Dallas Cowboys, Michael Irvin had nearly 12,000 yards receiving in his NFL career. Unfortunately, Irvin's career ended in a frightening manner. During the fifth game of the 1999 season, Irvin, went head first into the turf at Veterans Stadium in Philadelphia after being tackled by Eagles' defensive back Tim Hauck. The motionless Irvin was carted off the field, and the play was his last as a professional. Irvin recovered, but was diagnosed with a narrow spinal column. Irvin is now a member of the Pro Football Hall of Fame after his induction in 2007.