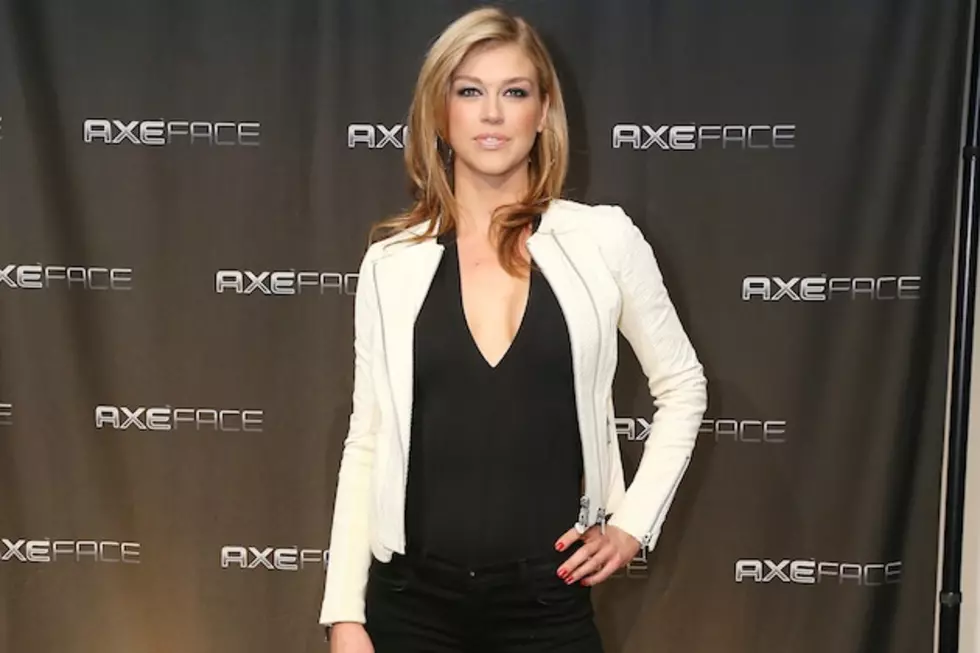 Adrianne Palicki talks 'G.I. Joe: Retaliation', Action Figures and Her 'Wonder Woman' Costume — Up to Speed
Getty Images
Adrianne Palicki has appeared in many television shows and movies in her ten years in the business, but she's best known for her role as Tyra Collette in the beloved television series 'Friday Night Lights.'
As an actress who often has romantic on-screen interactions with her male co-stars, Palicki feels strongly about the importance of men's grooming. To back up her commitment to enhancing the profile of this overlooked issue, Palicki teamed up with AXE Face and Denver Broncos All-Pro linebacker Von Miller to announce the launch of AXE Facescore.
The blonde beauty took a few minutes before taking on Miller in a series of head-to-head challenges at the AXE Facescore launch event in New York City to talk about being an action figure, the upcoming 'G.I. Joe: Retaliation', her favorite superheroes and whether she likes a man with facial hair (ahem, listen up guys).
You play Lady Jaye in 'G.I. Joe: Retaliation', out in theaters on March 28. This will probably involve action figures.
Uh, yeah, I have one that looks exactly like me.
Speaking of action figures, you've done a lot with the guys at 'Robot Chicken.' Which voice/skit was your favorite?
I have to say the Star Wars episode was my favorite and I've done numerous voices on there. Those guys are amazing and I always have such a blast when I go in. They actually sparked my love of doing voice work.
You're best known as Tyra Collette on the television series Friday Night Lights. What was the highlight of playing her for you?
The highlight for me was that I fell in love with Tyra so deeply and the fact that she got out. I think the arc of that character was one of the biggest -- her and Riggins had two of the biggest arcs in the show -- and there was a question of should she stay or should she go. We all really felt like it was important that she left and went to college and I was really in love with that because she did it.
How important is good grooming for guys?
Guys don't understand how important it is! We are the ones that suffer when you do not groom correctly or do not have smooth skin. I'll say that every character I have played usually ends up kissing at least one guy in the project I'm doing and if it's 'Friday Night Lights' it's every guy [laughs]. I can't tell you how many times I walk away -- not only in real life but on the set -- and I have rashes and I have breakouts. You're doing this for hours and they just don't take care of their skin. It's painful, we suffer, it's not attractive. So it's really awesome when I heard about this launch of the AXE Face range products. I've actually used a bit myself while I've been here because I didn't bring my face wash. And I love it, it's awesome!
Personally, do you prefer men with or without facial hair?
I actually really like just a little bit. I do like facial hair. It's the boyish thing I'm not so into -- it's too clean cut.
You played Wonder Woman in a TV pilot that never aired. Did they let you keep the costume?
No, and they should have! They literally made it for me and I had five of those costumes and no, they didn't let me keep it. And god knows I would have walked around in that thing. But at least I got to wear it and not in like a creepy way -- I got paid for it.
Who is your favorite superhero?
Wonder Woman's up there but I'm going to say Supergirl. I grew up loving her, she was my first comic book character that I absolutely fell in love with and wanted to be her when I grew up. I just love really strong female comic book characters.
Is it cooler to see yourself on a magazine cover or as an action figure?
It's so cool to see myself as an action figure. Most actors are like, "Oh my god I want to win an Oscar someday!" and I'm like "I really want an action figure!" and I have an action figure now so my life is virtually complete. I want to get all of them though so I can actually play with them.