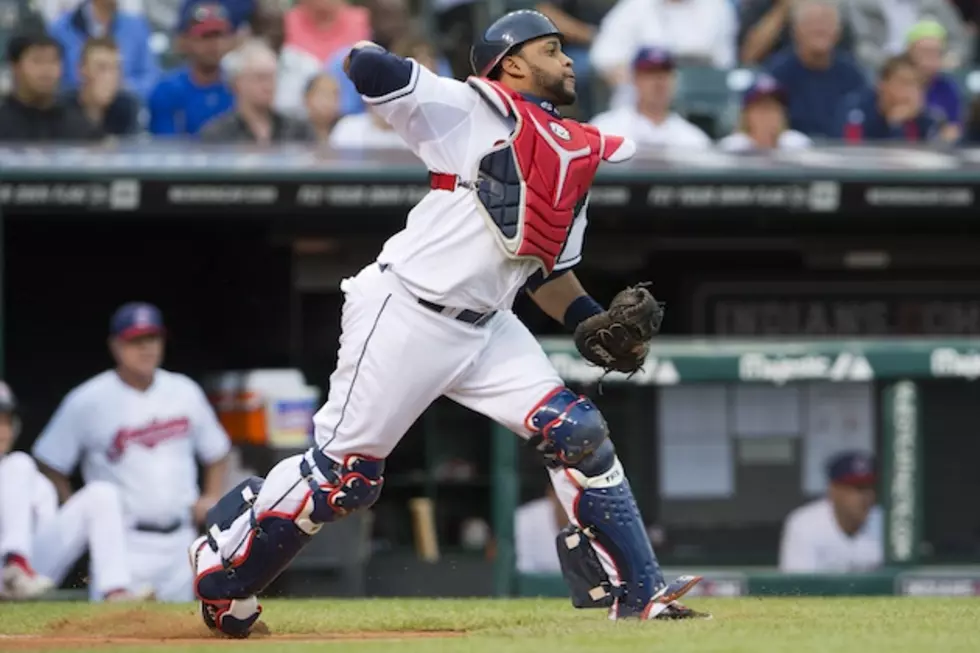 Fantasy Baseball Catchers: 10 Best Backstop Options For 2013
Jason Miller / Getty Images
Fantasy baseball catchers are weird animals. They're like your chubby cousin that your parents forced you to play baseball with at the sandlot.
They're offensive players mostly appreciated because of their defensive ability. They're like punters in football. What they offer at the plate doesn't have to be much, compared to what they offer behind the plate. If they're good behind the plate, but not behind it – they move to another position. In fantasy baseball, most leagues need one and sometimes two catchers, so you are forced to pay attention close attention to the position.
Here are the ten best fantasy baseball options at catcher in 2013.
10

Mike Napoli

Boston Red Sox

Napoli went from a beast in Anaheim to a monster in Arlington, and now he's going to be denting the Green Monster in Fenway. This Red Sox team isn't quite what it once was, but Napoli's fantasy owners could benefit greatly from Napoli's down year in 2012.

9

Salvador Perez

Kansas City Royals

Remember my prediction for Wieters? Perez has a similar upswing awaiting his Fantasy value, although, at 22 years old, it might be another year or two before we call him a top-five Fantasy catcher. Great batting eye with developing power – and he has just 115 games of Major League experience in him.

8

Wilin Rosario

Colorado Rockies

After an above-average rookie campaign, fantasy folks are wondering if Rosario is a one-hit wonder in Colorado. He led all catchers with 28 homers, but we should expect some regression from him in his sophomore year.

7

Victor Martinez

Detroit Tigers

A torn ACL closed V-Mart for the entire 2012 season, but he's set for a return to Detroit's lineup for Opening Day. When he's healthy, he's easily one of the best hitting catchers of the past decade. He can hit for power and/or average, and this will be his first season with Prince Fielder on his team. Martinez is solid fantasy catcher option.

6

Miguel Montero

Arizona Diamondbacks

Only Posey had more RBI than Montero last season, and he continues to help out in several Fantasy categories from a position that normally creates more problems than it fixes. It seems like only yesterday the Diamondbacks were struggling with choosing between Montero and Chris Snyder.

5

Yadier Molina

St. Louis Cardinals

Much like Santana and Wieters, Molina had to deal with pitchers and defense as a very young catcher in the majors (he came up as a 21-year-old backstop in 2004). It wasn't until his fourth full season as a Major League catcher that he finally "got it" at the plate, hitting over .300 for the first time of his career in 2008. Then he cracked a career-high 22 homers last year, making those that believed in his breakout 2011 look like geniuses. It's time to believe in him. He'll turn 31 years old this season, and has his former mentor (Mike Matheny) as his manager. Life is good for Molina these days.

4

Matt Wieters

Baltimore Orioles

By midsummer, I will probably be telling people, "I told you Wieters was the second-best catcher in Fantasy Baseball!" But despite my intuition, Wieters remains stuck at No. 4 on the list of fantasy baseball catcher for me. The sun-blotting-out 26-year-old enters his fourth season in the majors after improving in three consecutive seasons. Young catchers are usually a little bit behind other positions because they need to learn how to handle their own pitchers and play top-notch defense well before they learn patience at the plate. Be the guy at your draft that ends up yelling, "I LOVE WIETERS!" after you draft him.

3

Carlos Santana

Cleveland Indians

Santana will be 28 years old just one week into the season, and he's at his peak right now from a fantasy perspective. His power took a dip from 2011, although his average climbed a little bit, and we can be confident that he's capable of good power and batting average. This Indians lineup suddenly has some potential, with Michael Bourn, Asdrubal Cabrera, Jason Kipnis and now Nick Swisher possibly hitting in front of Santana.

2

Joe Mauer

Minnesota Twins

He's a weird paradox, this Joe Mauer. The more he plays a position other than catcher, the better a Fantasy catcher he becomes! In other words, Mauer can rake at the plate, but he has to stay healthy in order to do it. A catcher takes a beating behind the plate, from foul tips off the fingers, to overworked knees, to collisions at the plate. Mauer will see more time at first base and designated hitter, which makes fantasy owners happy … for now.

1

Buster Posey

San Francisco Giants

Posey is a fantasy catching oddity. He is a five-leaf clover. He is a double rainbow. He is a funny new show on NBC. He's a great hitting catcher that put it all together at the plate before the age of 22. For a catcher, that's like Doogie Howser, M.D. Young catchers rarely hit well consistently. Posey won the NL MVP crown last season, after hitting .385 with 60 RBI after the All-Star break. And the Rays drafted SS Tim Beckham over Posey in 2008. Yoiks.