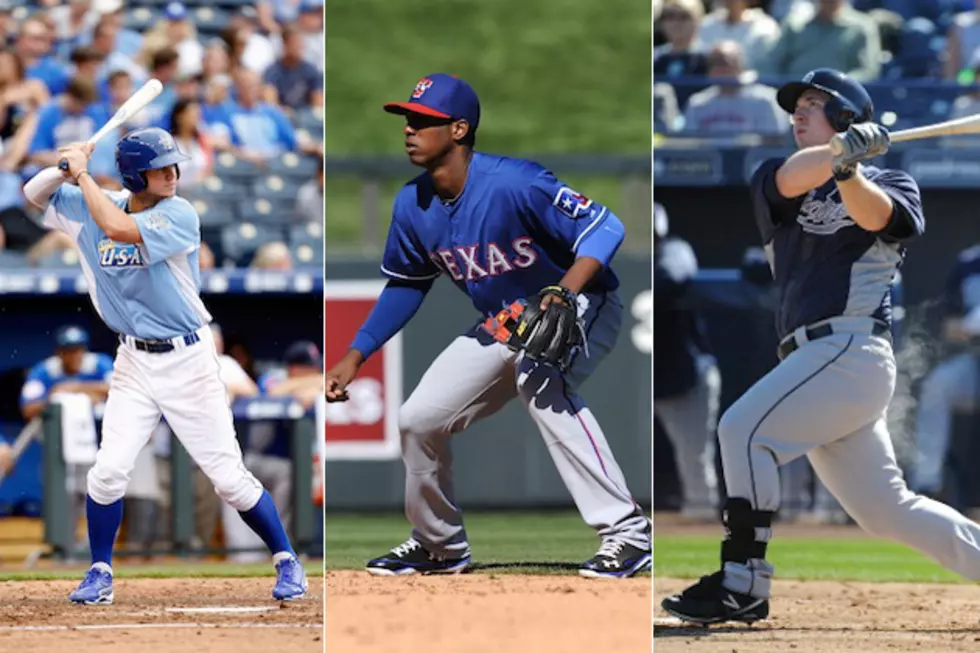 Fantasy Baseball Rookies: 10 Best Picks for 2013
Getty Images
Ah, the fantasy baseball rookie -- his siren song is a sweet one that many listen to. Baseball rookies hold so much promise, like a gift under the Christmas tree, next to several ones you already unwrapped. "This gift," you think, "still has a chance to be better than any of these other gifts we've already seen."
Unfortunately, more often than not, we're left with a gift that is either worse than the other gifts, or at best, it's quite similar. Every now and then, however, we come across a Mike Trout or a Bryce Harper, a Craig Kimbrel or a Buster Posey or GASP! a mint condition Evan Longoria!
The 2013 fantasy baseball rookies are an interesting lot, but they don't come close to holding the promise that the 2012 group held just a year ago this spring. Smart fantasy baseball owners will know that they may never see Trout's numbers again for any other rookie – ever – much less in 2013.
Everyone can still hold out hope, as we welcome in this new crop, and make room for more gifts under our trees. Here are the 10 best fantasy baseball rookies to snatch up in 2013.
10

Closers are as risky as eating sushi from a less-than-reputable restaurant. Rookie closers are as risky as eating sushi out of the dumpster of a less-than-reputable gas station. The Tigers talked like Rondon will get a chance to close, but don't freak out if it doesn't happen at the start of the season. He could end up earning the gig midseason.

9

As the best pitching prospect in baseball, a lot is expected of Bundy, but this is really just his second full season in professional baseball. The Orioles sent him down to start the season, but there's no doubt he is more talented than any of their current starters. It's just a matter of time before he comes up – and stays up. Grab him when he does because Bundy is one of the top fantasy baseball rookies in 2013.

8

Skaggs, Bauer's former teammate, is the D-Backs' current top rookie prospect. The lefty will earn the fifth spot in Arizona's rotation, and that's one of the main reasons for his high ranking here: guaranteed innings. He's still pretty young (21), and the Diamondbacks are exactly a top-shelf team heading into 2013. This top fantasy baseball rookie has the potential to strike out seven or eight batters per nine innings at some point.

7

Jurickson Profar, SS

Texas

With both second base (Ian Kinsler) and shortstop (Elvis Andrus) locked up, there really isn't a spot for Profar, one of the best prospects over the past two seasons, to play in. This could be the last time for about a decade that you won't see Profar selected in the top 100 picks in fantasy drafts, but for now, he's a strong fantasy baseball rookie option for this seaon.

6

Shelby Miller, SP

St. Louis

Chris Carpenter's injuries will prevent him from pitching this season – and possibly ever again. The open spot in the Cardinals' rotation suddenly came up for grabs, and Miller hopes to slot right in. He has had a tough spring, however, so Joe Kelly might take that spot for now. But Miller is the better prospect to become a fantasy force later on this season.

5

Injuries suck. Eaton has a slight tear in a ligament in his elbow that might keep him out a couple months. For a guy that was guaranteed at-bats, unlike most of the rookies on this list, this is devastating. At the end of last season, very few people would be ranking Eaton as the top fantasy baseball rookie entering this season. Not that he's not good, but he was just one of very few rookies expected to get playing time early. With Justin Upton now playing with his brother in Atlanta, the speedy Eaton is expected to hit leadoff for the Diamondbacks when he returns. Rotisserie owners will want his services because of his speed, and Head-to-Head owners will want him for the large number of at-bats and hits he should get – once he returns.

4

Julio Teheran, SP

Atlanta

There were a lot of worries about Teheran last season, as the Colombian posted a 7-9 record, with a 5.08 ERA in the minors last season. They tweaked a few things and he had a great spring – so a rotation spot awaits. He's worth a look in the late rounds for the back of your rotation.

3

Much like some of the other fantasy baseball rookies on this list, playing time is half the battle for Gyorko. He'll be draft-eligible at third base for now, but within a week or so, you can start him at second base – like the Padres will. He could be their two-hole hitter in front of Chase Headley, Carlos Quentin and Yonder Alonso, and he makes for an excellent middle-infielder choice in Rotisserie right now.

2

Trevor Bauer, SP

Cleveland

Bauer was one of three stellar Diamondbacks rookie pitching prospects over the past three seasons, but some of his long-toss routines, along with other out-of-game tendencies, convinced Arizona trade him to the Indians. If you can get him as a reserve, you might be able to wait through a bumpy first month. He can strike hitters out once he gets in a groove.

1

Brought over in trade for All-Star pitcher James Shields, Myers joins the Rays as the next-in-line great prospect. Myers hit .314 with 37 homers in the minors last season, earning the Baseball America Minor League Player of the Year Award that Mike Trout won the previous season. He's expected to start the year in the minors, mostly for financial reasons, but a call-up in May is certain. His promising bat makes him worth a late-round pick if you can stash him as a reserve for a while and should make for a solid fantasy rookie.