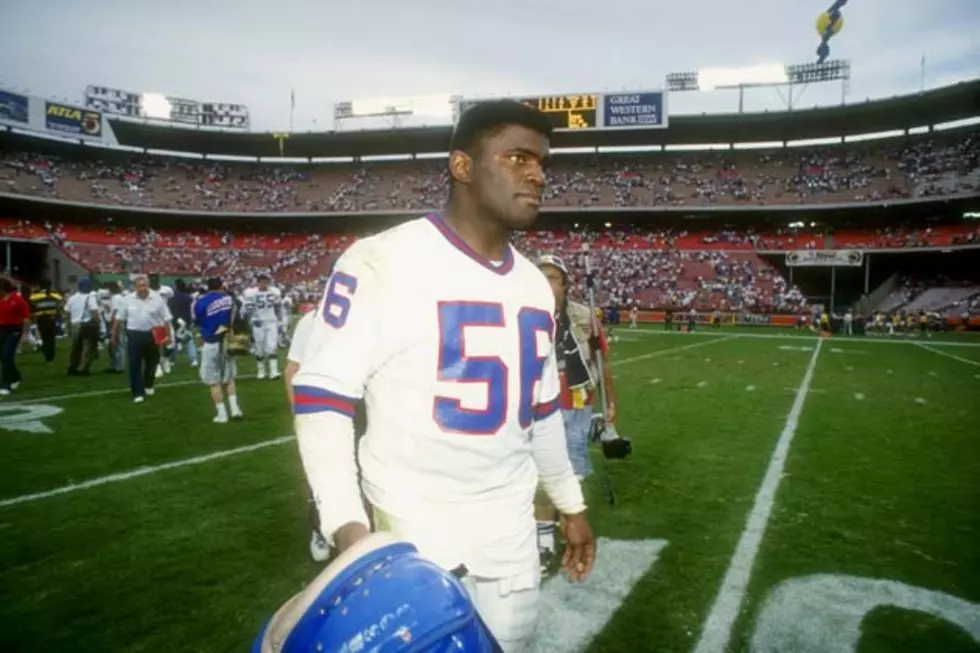 Lawrence Taylor and 10 Other Former Players Who Auctioned Off Their Super Bowl Rings
Mike Powell, Getty Images
Hall of Fame linebacker Lawrence Taylor has fallen on some hard times and he is auctioning off his Super Bowl XXV championship ring.
The auction is slotted to end on Saturday, and bids have already exceeded $67,000. It's expected to fetch between $75,000 and $100,000 at the end. Taylor's auction coincided with the current Giants' team receiving their Super Bowl XLVI rings. But Taylor isn't the first ex-pro to turn to bid farewell to his Super Bowl bling in hopes of drumming up some quick cash.
Here's a look back at how others who fell on hard times fared:
WILLIAM PERRY
In a heartwarming story, a 10-year-old decided in 2011 that he wanted to return a Super Bowl XX ring back to The Fridge. "He said Perry lost the ring through hard times, and that he only had one ring. He said, 'I want him to have the ring back.' That's pretty special for a 10-year-old to want to do that," the boy's mother told ESPN. The boy's father had bought the ring for $8,500 from Perry when the athlete needed money to pay for medical expenses.
ROCKY BLEIER
Bleier earned four Super Bowl rings with the Steelers, all of which he sold to pay for expensive divorces and to make up for back taxes. "The divorce left me in a terrible situation" that left him bankrupt and searching for financial answers, he said in 1997. Years later, things have turned around quite a bit for Bleier who is now a motivational speaker.
LESTER HAYES
In perhaps the strangest way a player has lost his ring, Hayes, a former Raider, took out a loan on the ring that he couldn't pay back to a pawn shop that would up taking ownership over it. Then the shop sold it for $18,000 in an online auction. But he made up for it later on in his life: When times got better, Hayes asked the manufacturer to make him another Super Bowl XVIII ring.
JOE GILLIAM
Back in 1988, Gilliam got back his Super Bowl IX from a sympathetic fan who seemingly wanted to give the former Steelers quarterback a moment of redemption. "It was a humbling kind of thing," he said at the time. "I've been clean a long time, and I never thought someone would do something like that for me." Unfortunately, that moment of triumph was ever so fleeting. Gilliam died from a drug overdose in 2000.
JE'ROD CHERRY
The former New England Patriots safety sold his ring for a more noble cause. In 2008, someone challenged him to give the proceeds from an auction to charity, and Cherry wound up agreeing to the deal. He raised an impressive $150,000 from the sale. "I do not disrespect the idea of what the ring represents," Cherry said. "I tried to elevate it to something even better."
STEVE WRIGHT
Packers' memorabilia tens to go for much more than the average since the team has such a rich history. Obsessive fans are always looking for a piece of the Green Bay tradition. Nothing compared though to the $73,409 brought in for Wright's Super Bowl I ring in 2011. Wright only played four years in the league, but two of them were the first two championship seasons for the Packers. Not a bad haul.
"FUZZY" Thurston
Sale of Thurston's ring in 2011 yielded $50,788 at an auction which went to helping Thurston pay off about $1.7 million in back taxes. "While the circumstances surrounding the auction of this ring are sad ones, we all hope that it works out for Fuzzy and that somehow the ring can make it back to him," said the auction's director. Thurston ran into trouble in his post-playing days when he invested in a chain of restaurants that failed. Some hoped that the winning bidder would return the ring to Thurston afterward, but to no avail.
ALVIN GARRETT
When Garrett decided to become a Born-Again Christian, he parted ways with much of the possessions he had accumulated during his playing days, including his Super Bowl ring from his time with the Redskins. Originally, Garrett took out an ad in the paper to sell the ring. It later went for $40,000 at an auction. "I didn't come close to the amount I wanted," Garrett would say.
THOMAS HENDERSON
When Thomas "Hollywood" Henderson sold his ring in 1988, he put it into good hands. The buyer was Robert Briscoe, a "diehard Dallas football fan," who got one of Henderson's three rings for $13,500 at an auction." Briscoe had followed Henderson during his playing days, and even afterward when Henderson was battling drug abuse. Henderson took solace in his recovery: "Every day now," he told the LA Times then, "I get a trophy in the Sober Bowl--and I've never had it so good. I'm not a celebrity. I'm a recovering addict."
LARRY GRANTHAM
In a feel-good story, Grantham actually was able to hold onto his ring even after bids rose to as much as $18,000 in 2009.The former Jets' captain was struggling to pay his medical bills, and had no other option but to sell memorabilia. When the president of AmericanMemorabilia.com, Victor Moreno, found out how dire the situation was, he pulled down the active auction and began to raise money for Grantham through donations. "It went back to Larry, and that's where the ring belongs," Moreno said then. "But before I send it, I'm going to hold it -- it has special meaning now."