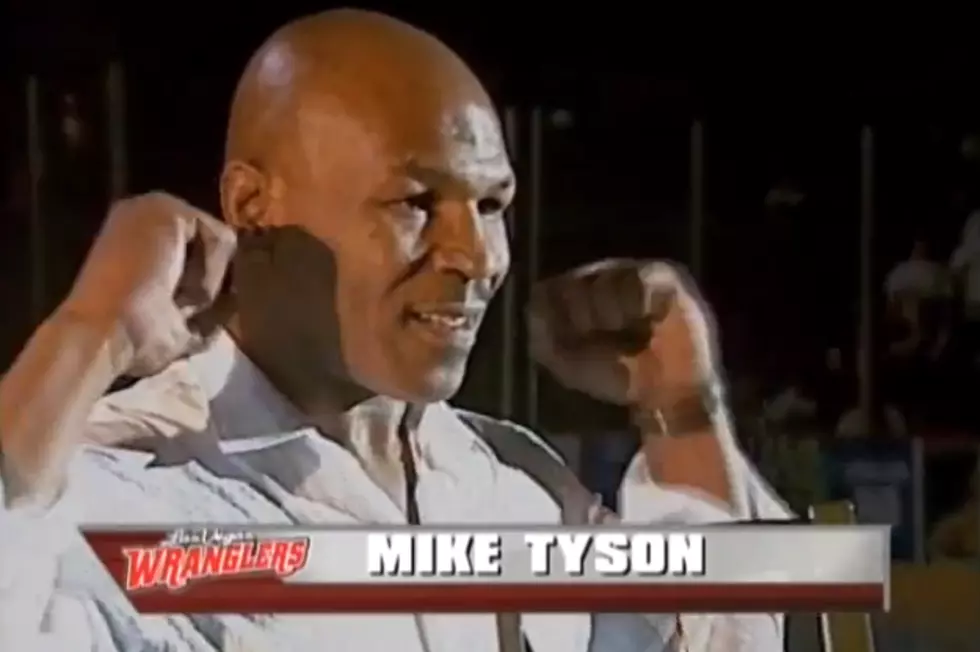 Mike Tyson Gets Loud at a Hockey Game — Men With Balls
YouTube
In this edition of "Men With Balls", Mike Tyson sounds the alarm at a hockey game, a high school first base coach takes a baseball off the groin, the Philippines Basketball All-Star game has a 'Thriller' moment, Bo Jackson knows Super Mario and one of the worst first pitches of all-time.
However, let's start in the Great White North as a Canadian Lacrosse match had a brawl for the ages.
Canadian Lacrosse brawl gets out of hand
Normally when you think of bench-clearing brawls in Canada, it comes from the world of hockey but a B.C. Intermediate A Lacrosse match between the Coquitlam Adanacs and Nanaimo Timbermen had a memorable one.
In the second period of play, Adanacs Cody Reed scored a goal to give Coquitlam a 15-4 lead. After the score, Reed was hit by the Timbermen's Jordan Kuziuk which started the bench-clearing brawl:
Watch Out For That…
As any baseball player might attest to, taking a baseball to groin is going to hurt and the below clip shows us that even first base coaches aren't safe.
Watch as this high school baseball coach takes one right to the groin after a pickoff attempt which he fails to get out of the way of it:
Tecmo Bo Knows Super Mario
Two of my favorite video games of all-time have to be Super Tecmo Bowl and Super Mario Brothers, so when one intrepid individual decided to combine the two, it made the world a better place.
Check out Tecmo Bo taking on the first level of Super Mario Brothers:
Don't Want To Be 'Jung'
I've seen some pretty terrible ceremonial first pitches in baseball history but Jessica Jung of the K-Pop group "Girls Generation" might have thrown one of the worst of all-time.
She definitely played the part with her wind-up but the throw instead of going up decided to go straight into the ground:
Mike Tyson Sounds The Alarm
Before the start of their ECHL Final against the Florida Everblades, the Las Vegas Wranglers decided to invite a special guest to help them pump up the fans.
That guest was former heavyweight champion Mike Tyson who help sound the alarm to get the fans all riled up:
Philippines All-Star Team Does Thriller Dance
In case you missed last weekend's Philippine Basketball Association All-Star Game, don't fret.
We have the most memorable moment from that game as a group of players during player introductions decided to bust out the "Thriller" dance for the All-Star crowd on hand.
No word yet if Vincent Price's ghost approves of the performance:
Little League Umpire has awesome strikeout call
Over the years, baseball umpires have come up with interesting ways to celebrate strikeout calls.
Check out this umpire calling a little league baseball game in Rock Island, Illinois as his strikeout call might have been a beckoning to the heavens:
Minor league manager hits umpire with helmet
Springfield Cardinals manager Mike Shildt gets into this week's edition of "Men With Balls" not for his one-minute tirade at a home plate umpire but for what happens after it.
In a recent game against the Northwest Arkansas Naturals, Shildt was ejected for arguing a call and simply didn't want to leave without giving his two cents.
After his banter with the home plate umpire ended, Shildt appeared ready to leave the field but accidentally flipped the batting helmet that he was wearing into the face of another umpire: