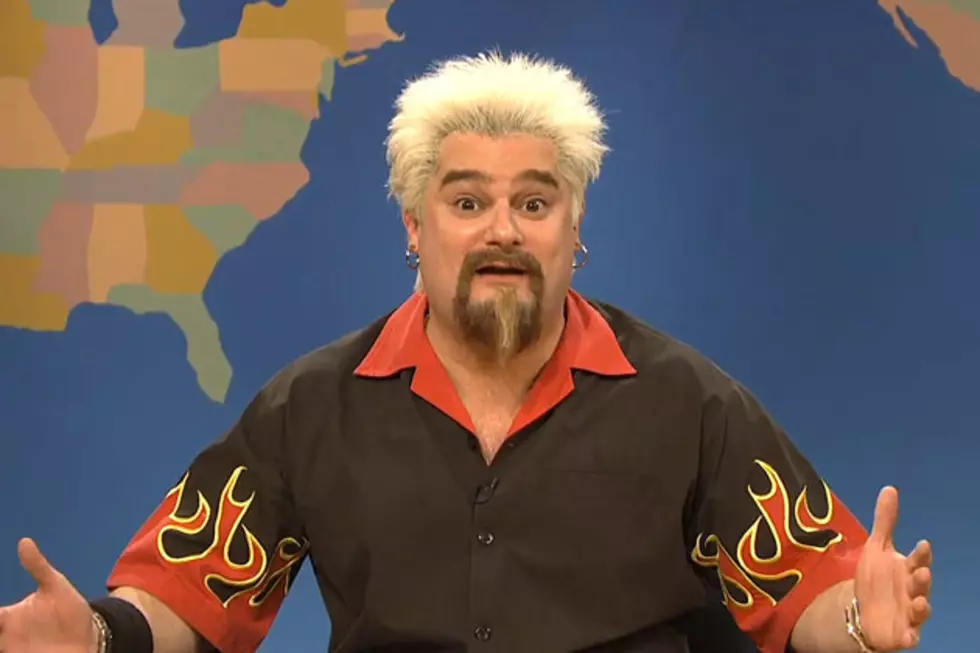 'SNL's' Guy Fieri Takes on The New York Times: Watch the Skit That Got Cut
NBC
So, remember that scathing New York Times review of Guy Fieri's new restaurant in Times Square? Remember what the Food Network star had to say in response? Well, apparently the folks behind 'SNL' tried tackling this ripe-for-parody issue on The Weekend Update, but ultimately decided to cut the segment from last Saturday's show. Thankfully, you can watch the sketch in full right here!
We're not sure exactly why 'SNL's Guy Fieri skit didn't make the cut -- especially since this past weekend's Jeremy Renner-hosted episode wasn't all it was cracked up to be -- but we're at least glad NBC decided to post the video online for our enjoyment.
In the real-life NY Times review on Guy's American Kitchen & Bar, located in Manhattan's Times Square, critic Pete Wells asks, "Did you [Fieri] try that blue drink, the one that glows like nuclear waste?," proceeded by, "if servers arrive with main courses and find that the appetizers haven't been cleared yet, do they try to find space for the new plates next to the dirty ones? Or does that just happen in Times Square..." And that's not even the worst of it.
Thankfully, 'SNL's version of Guy Fieri (played by Bobby Moynihan) hadn't read the review yet and was instead "happier than butter on gravy." There will always be 'SNL' skits that NBC decides to cut, but why do you think 'SNL' passed on this one? Watch the full Guy Fieri/NY Times skit from 'SNL' below and let us know what you think in the comments!