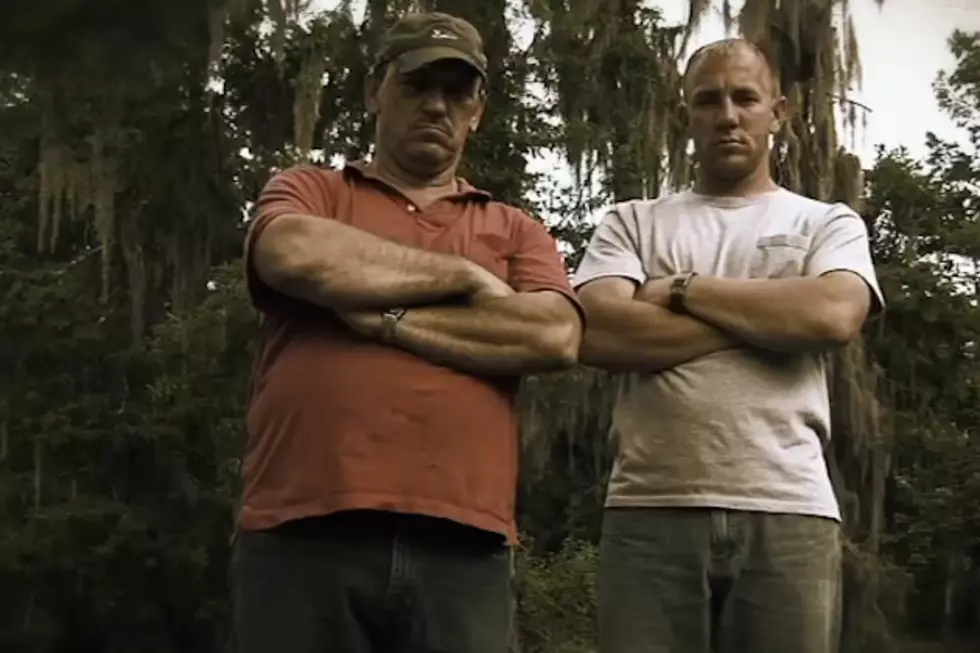 2013 Super Bowl Interviews: New Orleans Under Attack By 'Swamp People'
YouTube
All the stars are out this week in New Orleans for the Super Bowl. Stroll through the French Quarter and you're sure to see current and former NFL players, familiar faces from stage and screen (this intrepid writer spotted Neil Patrick Harris and Alec Baldwin at dinner on Friday night), television personalities and even a famous musician or two (you may have heard that Beyoncé is performing the National Anthem on Sunday).
Among the breakout stars working the Super Bowl promotional circuit are the Landrys, the main characters in the History Channel's hit reality show, "Swamp People." The show follows Cajuns Troy Landry and the "Landry Gang" during the 30-day alligator hunting season in the Atchafalaya River Basin in Louisiana. Since its debut in August 2010, "Swamp People" has become one of the History Channel's biggest hits and Troy Landry's "Choot 'Em" a popular catch phrase. The fourth season of the Landry Gang's adventures premieres on February 14th at 9 p.m. ET/8 p.m. CT on the History Channel.
Troy and the Landry Gang spoke to GuySpeed about the show's success, Louisiana pride, local cuisine and their beloved New Orleans Saints.
How has your life changed since the show started in 2010?
Troy Landry: Oh goodness. My life has changed dramatically since the show started. It's unbelievable. It seems like I stepped on a rollercoaster about four years ago and never got off yet. We've gone traveling the whole country, busy busy busy almost to the point where we can't keep up.
When was the moment you realized you couldn't go out to dinner like a "normal" person?
Troy Landry: Now when we try to go somewhere we get mobbed everywhere we go. It don't matter where it's at. What used to be a simple little ride out out on the town or go eat out at a restaurant or something and have a good time is almost impossible now.
What do people say to you when they see you?
Troy Landry: Oh people holler at me all the time, "Choot 'em! Choot 'em! It's a big one!" That's what they want to hear the most.
What is the worst thing that you've lost in the swamp?
Jacob Landry: His mind.
Troy Landry: No that's where I find my mind! I don't think I have lost things in the swamp.
Jacob Landry: His virginity! I knew that's what everybody was going for.
Is there a reason why you don't wear gloves when you're pulling a line?
Troy Landry: We don't wear gloves for the simple reason we put leaders on our line -- we have to tie and untie knots all day and it doesn't work with gloves you'd have to put them on then take them off to tie the knots, it slows you down more than anything. It would be a lot easier on our hands if we worked with gloves but it just doesn't work.
Do you have a favorite gator recipe to share?
Troy Landry: I love grilled gator. I love it grilled. Cheesin' it up real good, throw it on the grill, very good.
As a native of Louisiana, what does it mean to have the Super Bowl back in New Orleans after Katrina?
Troy Landry: It's awesome to have it back. It gives a big shot in the arm to the city and the whole state. It brings in so many people from all around the country and all around the world even got people from other countries here and let them see how the city's rebuilt better than ever, nicer than ever and the people's all fired up with all these visitors. It's just an awesome thing and I'm so happy we were able to host it this year.
Jacob Landry: To me, there's nothing better. With the Super Bowl here, it just rejuvenates everybody and it's been a great deal for us. We just hope that everybody walks away with a great experience.
How disappointed were you that the Saints didn't have the chance to play in the Super Bowl in their home stadium?
Troy Landry: It disappoints me they didn't get to make it this year but they just had a bad year with everything the controversy they had going on. But that's alright, it's gonna make them even better than before. They're gonna come back stronger than ever, just like the city of New Orleans!
Who are you picking to win this Sunday's game?
Troy Landry: I will be there but I don't know who I'm rooting for and I'm not going to pick. I wish the Saints were playing, that's all I can say. May the best team win.
Jacob Landry: Red's his favorite color, so the 49ers.
Troy Landry: Yeah, red is my favorite color. I've got a red truck, I've got a closet full of red shirts but it doesn't matter, I'm not wearing red because I'm pulling for San Francisco.
What is your favorite traditional Louisiana dish to eat?
Troy Landry: Boiled crawfish. Some kind of crawfish fixed some kind of way.
Jacob Landry: Boiled crawfish or crawfish étouffée.
Chase Landry: Boiled crawfish or gumbo.
What's your favorite restaurant in New Orleans?
Troy Landry: I've got a bunch of favorites. New Orleans is full of nice places and awesome restaurants. Just when you try one restaurant and you think it's the best, a week later you go around the corner and try another one and think, "This one is better than the last one!"