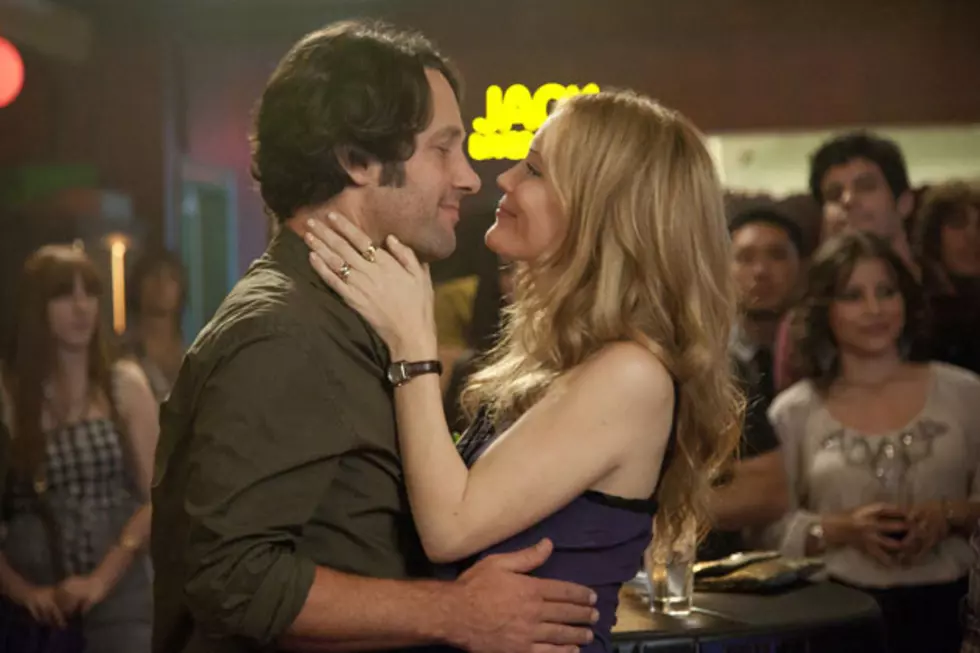 Universal
The transition from 'The 40-Year-Old Virgin' to 'This is 40' has been an interesting one for Judd Apatow. After doing some really personal work on television's 'Freaks and Geeks' -- and getting almost immediately cancelled when no one watched it -- he became a major name in cinematic comedy with the big, broad 'Virgin,' a film about a man trying to end decades of sexual starvation. He followed that up with 'Knocked Up,' about a young stoner who learns the perils of impregnating Katherine Heigl -- whose sister was played by Leslie Mann, Apatow's real-life wife, and whose nieces were played by Maude and Iris Apatow, Apatow and Mann's real-life daughters. While most of the movie was about Seth Rogen and Heigl's wacky babywaiting shenanigans, there was that small percentage of observational family life comedy with Mann, the junior Apatows, and Paul Rudd, ostensibly playing Judd. It was some of the best stuff in the film, and it pointed the way forward.
'Funny People' came next -- with Adam Sandler fighting a potentially fatal illness to try to take his place in the Mann, Maude, and Iris family unit. With each new movie, Apatow seems to move closer and closer to truly autobiographical work -- and now we have 'This Is 40,' where the titular 40-year-old he's writing might be himself. No Rogen, no Sandler, no wacky, cutesy plot in the foreground. This is the sort of confessional comedy that almost never makes its way into mainstream Hollywood productions, and despite 'This is 40''s messiness and excessiveness, it's good to see a filmmaker shooting from the hip and speaking from the heart.
In what's billed as a "sort-of sequel" to 'Knocked Up,' Rudd and Mann return as Pete and Debbie (Rogen and Heigl don't appear, though Rogen's character gets mentioned). They're both turning 40 in the same week, but only Pete is willing to admit it. With his birthday party a few days away (Debbie refuses to participate because she's, uh, 38. Or was that 37?), all is not well in the Faux-patow house. Both spouses' businesses are struggling: Pete's indie record label is nearly broke and his new release from Graham Parker is tanking. Debbie's clothing boutique is missing thousands of dollars, which might be have been stolen by one of her employees, the voluptuous Desi (Megan Fox) or the weird Jodi (Charlyne Yi). Pete's dad Larry (Albert Brooks) is short on cash too, and he keeps guilt-tripping Pete into loaning him money ("You know your mother wanted to have you aborted," he tells him in in a funny scene).
Their daughters aren't happy either, particularly Sadie (Maude), who's just on the cusp of teenagehood, and is growing frustrated with Debbie's ultra-healthy cooking and her strict no wifi before 8:00 PM rules. Debbie herself is frustrated with Pete for spending too much time on the toilet playing Words With Friends, and Pete is frustrated because Debbie keeps dogging him for eating cupcakes, and the whole family is kind of miserable with each other.
And that's essentially what 'This is 40' is: no so much a story as a collection of amusing observations and subplots. John Lithgow has a few scenes as Debbie's estranged father. There's a running thread of jokes about 'Lost,' Pete and Debbie fight, and there's talk of divorce. The Philadelphia Flyers show up at once point for some reason. It kind of feels like Apatow's version of an entire season of 'Louie,' only he has to find a way to connect all his various vignettes -- which is sometimes easier said that done. He often seems completely uninterested in what little narrative he's established; even though Pete and Debbie are both desperately worried about finances, they still take a lavish weekend getaway to a resort where they do drugs and order copious amounts of room service (I hope they cashed in a lot of hotel points to cover the bill).
It's fortunate for Apatow that he's got such a phenomenally talented and funny cast -- and such a phenomenally talented and funny family, particular Maude, a budding scene stealer whose exasperated relationship with her parents recalls the connection between Lindsay and the elder Weirs from back in the 'Freaks and Geeks' days. Her character's problems are the smallest but truest in entire film -- if you've lived with a woman, you may recognize the sight of Maude exasperatedly screaming at her closet and all the clothes in it that don't fit (DISCLAIMER: My wife wants me to clarify that I'm not writing about her [although I am]). It's easy to imagine Maude eventually replacing her mother as the Apatow family's female leading lady -- a prospect that seems entirely intriguing.
'This is 40' isn't great, but it is likable, and so is most everyone who's in it: Rudd, Mann, Brooks, Robert Smigel as Pete's married buddy, and Melissa McCarthy as the testy mother of Sadie's crush. The cast gets an A+, even if their material just sneaks by with a passing grade. That might be generous in a few cases; the couple's money woes, most awkwardly typified by Paul Rudd moping in his BMW, feel laughably out of touch with real economic desperation, and their marital issues are completely devoid of tension (it's not like Apatow's going to make a movie about his own life with his real family and then write a household-shattering divorce). The only thing Apatow really communicates with absolute clarity is his desire to speak honestly. Sincerity trumps insight. Hopefully the next step on his journey will be even more interesting.
'This is 40' comes out in theaters on Friday, December 21.
Matt Singer is a Webby award winning writer and podcaster. He currently runs the Criticwire blog on Indiewire and co-hosts the Filmspotting: Streaming Video Unit podcast. His criticism has appeared in the pages of The Village Voice and Time Out New York and on 'Ebert Presents at the Movies.' He lives in Brooklyn with his wife, dog, and a prop sword from the movie 'Gymkata.'