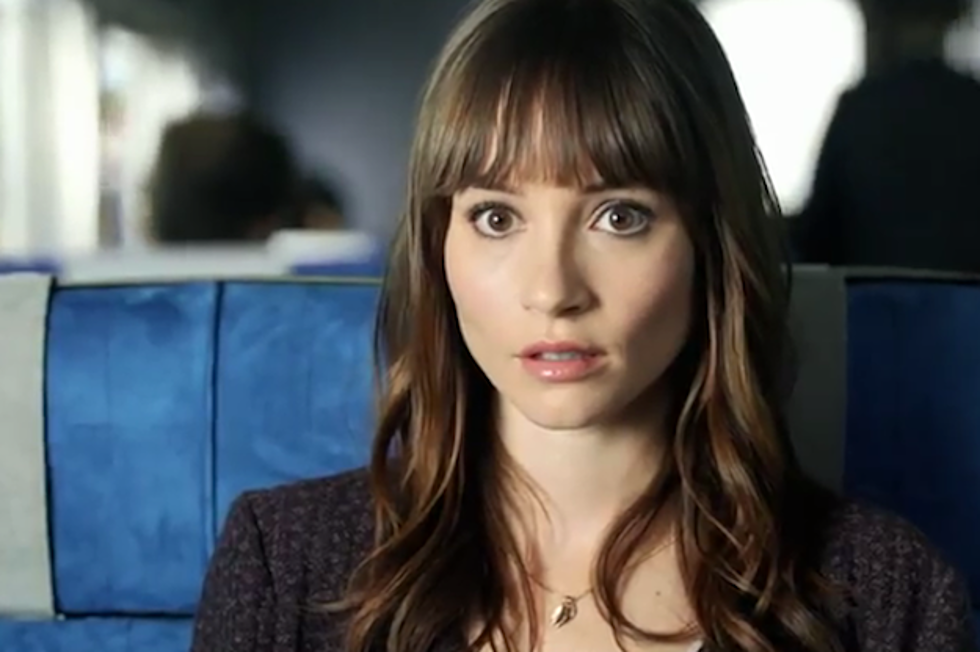 Who is the Hot Girl in the 2012 Orbit Gum Commercial?
Your nasty breath tells us that you don't buy a whole lot of gum, and you probably don't pay a whole lot of attention to gum commercials. However, we're pretty sure you are aware of the 2012 Orbit gum commercial, because there's a really hot girl in the Orbit gum commercial (and a talking burrito). So, you may be wondering 'Who is the Hot Girl in the 2012 Orbit Gum Commercial?' Answer: Jocelin Donahue.
In the 2012 Orbit gum commercial starring Jocelin Donahue, 'Pete' is commuting to work on a train. He is chowing down on a breakfast burrito when Donahue walks over and sits across the seating compartment from him. The smell of the spicy burrito comes to life in an annoying embodiment sitting in the seat right next to 'Pete.' The Orbit stewardess soon appears to implore Pete to use Orbit and not let the food 'hang around.' The offensive-smelling burrito is dispatched, and 'Pete's' fresh breath gets him a seat right next to Jocelin Donahue. Watch the 2012 Orbit gum commercial below:
Jocelin Donahue, 29, is an actress and model who has starred in many other commercials, as well as films and TV shows. She is perhaps best known for her lead roles in horror films 'The House of the Devil' and 'The Burrowers.' Donahue also had a small part in 'He's Just Not That Into You.'
The attractive actress has also done modeling and commercials for Zune and Levi's, in addition to her work for Orbit. She started her career by doing fashion modeling while she was a student at New York University. The fashion modeling eventually led to commercials and then other acting jobs.